A few years ago when the Nissan GT-R (R35) rose to fame in the world of drag racing, 9 seconds a 1/4 mile was quite an achievement. The platform was still relatively new, and by that time the V10 Gallardos, V10 Vipers and of course the Supras had largely dominated the scene. That's not to say the GT-Rs were not common in drag racing, no, outside the US some of the fastest cars were Skylines, before the R35 broke the internet, New Zealand and Australian racers had implemented heavily on the Skyline platform. There were R33s, R34s and R32s running in the low 6s…but the R35 platform was something entirely different, new challenges and more importantly new lessons had to be learned.
AMS Performance was always in the forefront with the R35 having hit the 9s and 8s barriers ahead of everyone else, their infamous Alpha Omega became the first GT-R to break into the 7s at a time when competition was just heating up. By 2013, a plethora of GT-R shops around the world had mastered the art of making mega fast GT-Rs. Some of these shops include T1 Race Development, Ekanoo Racing, Extreme Turbo Systems, Alpha Logic, SubZero Motorsports, Boostin Performance and private teams such as OB Prestige and Diamonds by Wire Racing just to name a few.
That said, here is a list of the fastest Nissan GT-Rs in the world. We used 1/4 mile ETs to define the order. There will be changes from time to time, the competition is so thin such that every time there is an event chances are the order will be shuffled. The list has been compiled with the help of data collected by the dedicated folks at Drag Import News, you can view more lists on their website.
NB: Help us keep this list to date by submitting recent times when a new record or personal best time is broken.
1. Alpha G by AMS Performance: 6.937s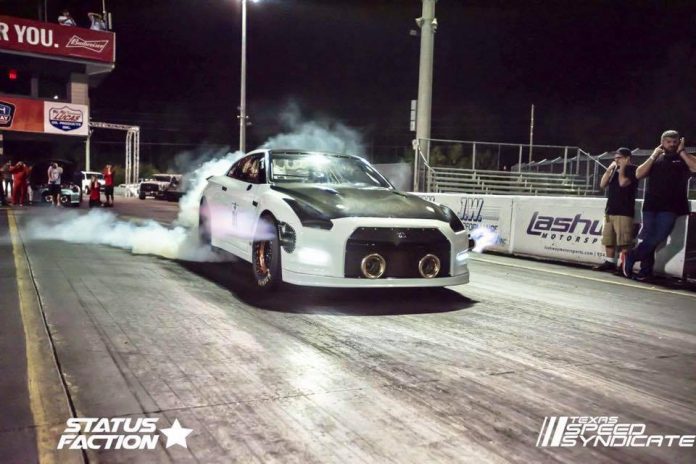 If you follow this scene too well, then Gidi is a name you probably come across regularly. The multiple world record holder puts the "d" in dedication, he fields two Gallardos each with 2000hp+ and the infamous Diamonds by Wire Racing Alpha G. He has held the 1/2 mile world record in his UGR Gallardo Superleggera and now holds the 1/4 mile world record in his AMS prepped Nissan GT-R "Alpha G". At TX2K 2017, Alpha G became the first R35 GT-R to hit the 6s, the magic number was 6.937s at 196.27 mph, breaking the former record held by ETS. Watch the video here. The achievement was so big such that Nismo's Chief Product Specialist Mr. Hiroshi Tamura congratulated the AMS team personally.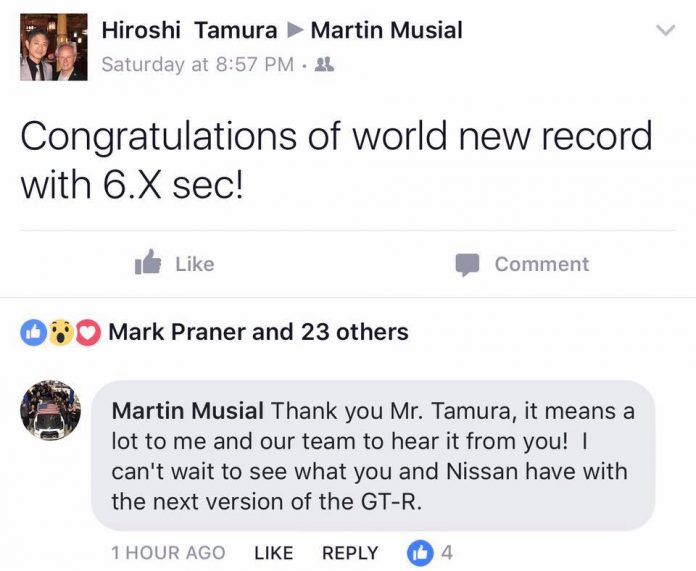 2. ETS Nissan GT-R: 6.892s
Update: 30th April, 2017 – New Record for ETS is 6.892s
Extreme Turbo Systems are not new to building fast cars, their shop car, a GT-R with over 2500hp has held the record a number of times, including the most recent record of 7.012s @ 209mph. Behind the wheels is none other than Lucas English. When it comes to trap speeds, they have recorded the fastest of all at 213.42mph on a quarter mile strip, and thus hold the world record for the fastest GT-R and AWD overall. Besides building fast GT-Rs, the are also known for fast Evos and currently hold the world record for the fastest Evo X, 8.488s @ 164.17mph.
3. Alpha Logic Nissan GT-R: 7:057s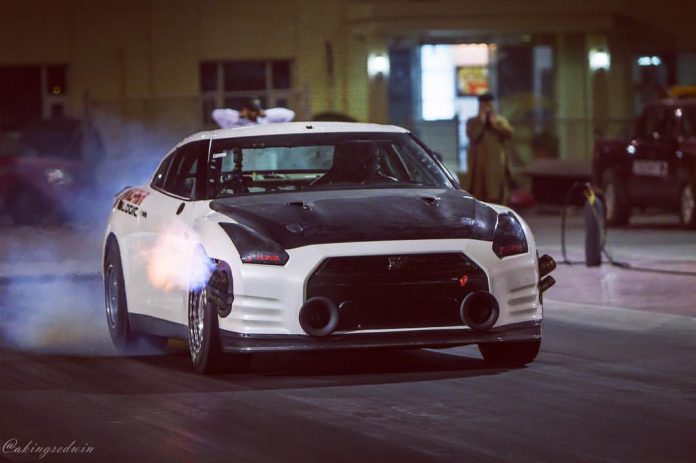 All the way from Dubai, Alpha Logic Performance emerged abruptly and is now dancing in the big league led by driver and team owner Rob Harper, two of their cars are in the top ten list of fastest GT-Rs in the world. Besides running his own shop, Rob travels around the world tuning some of the fastest GT-Rs. Like other teams in this list, they are also eyeing on the 6s barrier, that aside though…they currently hold the standing half mile world record with this very GT-R. A staggering speed of 248.33mph, make that 400km/h! Their second AMS equipped GT-R is also in this list, dubbed Alpha K, the car has a personal best of 7.09s.
4. Ekanoo Racing Nissan GT-R: 7.085s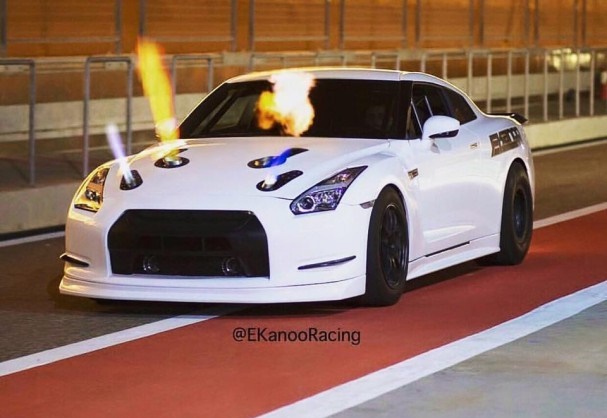 Ekanoo Racing needs no intro, based in the Kingdom of Bahrain, this team has broken the odds with the R35 platform. The shop car is a T1 Race engineered car that held the GT-R record for almost a year. Numerous testing enabled them to perfect their car and stay ahead of the game. Like Alpha Omega however, there comes a time when a project goes into retirement to create room for more. Ekanoo recently retired their GT-R alongside their largely successful Toyota GT86. The GT-R retired with a personal best of 7.085s at 213.27mph driven by Mohammed Zainalabedin.
5. Alpha K by Alpha Logic: 7.093s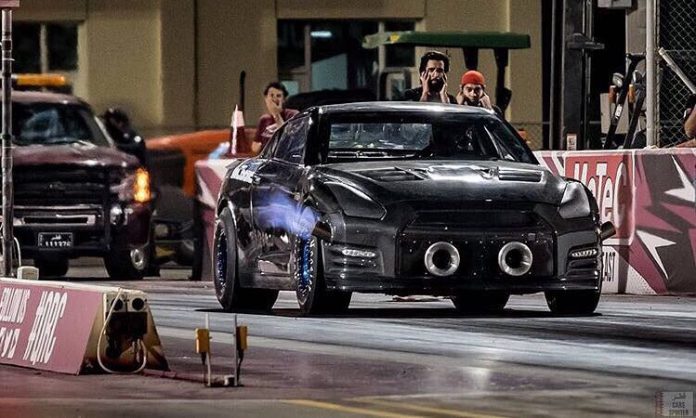 This is the other car from Alpha Logic, like Alpha G, she has been named after the owner/driver whose name is Khalifa Ali. The all black carbon GT-R has already set a personal best time of 7.093s at 205mph. It's a relatively new car which managed to enter the top five after only 3 passes. It features an AMS turbo kit and billet engine, T1 Race fuel and ignition systems as well as Rob's very own MoTeC M1 tune.
6. Alpha Q by AMS Performance: 7.239s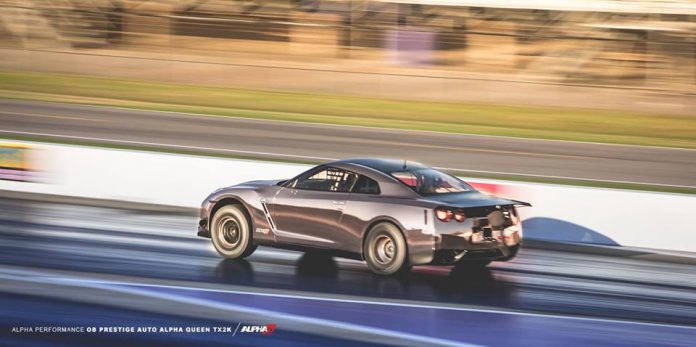 Another new car this time from Canada, owned by OB Prestige Auto who are famous for fielding chrome wrapped Lamborghini Gallardos in various American drag racing championships. Dubbed Alpha Queen, the rose gold chrome wrapped GT-R made her debut at TX2K 2017, instantly setting a personal best ET of 7.239 @198mph. AMS says this is only the beginning for this build, and given the success of Alpha G, there should be plenty of surprises in store for us. Could OB take the GT-R trophy to Canada for the first time? We will have to wait and see.
7. F Performance Garage Nissan GT-R: 7.315s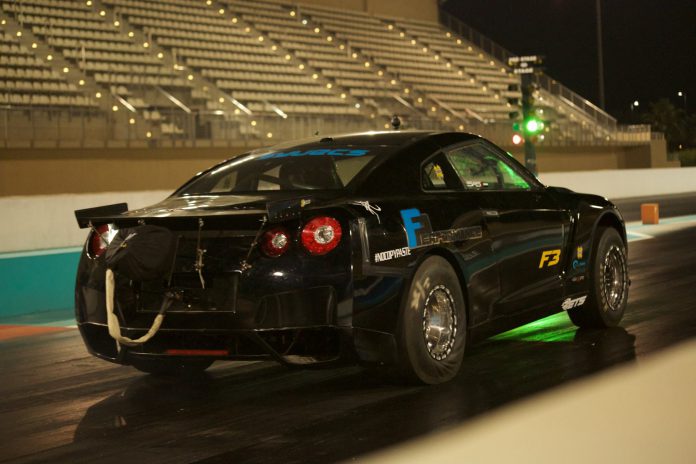 If you watched The Grand Tour season 1, then you may remember this remarkable scene where a Porsche 918 Spyder lost to an insanely fast Nissan Patrol…well, meet the guys behind it. Yet another fast shop from Dubai, F Performance Garage has been around for quite some time, building a variety of fast cars ranging from SUVs to hatchbacks and of course the GT-Rs. Their GT-R shop car has a personal best time of 7.315s at 189.92mph.
8. T1 Race Development Nissan GT-R: 7.385s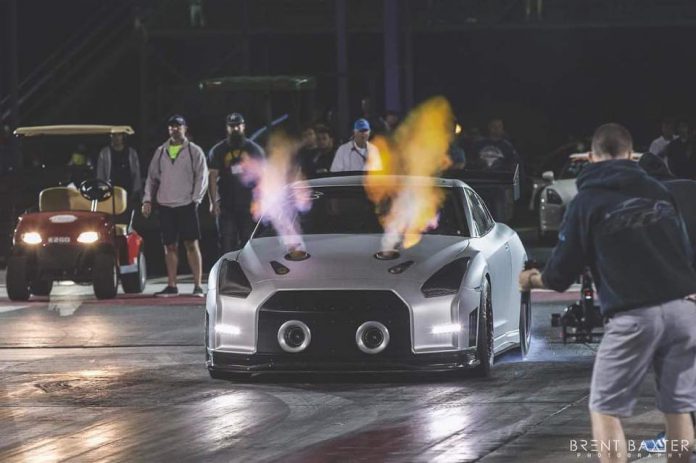 Another world record car, driven by the well known Tony Palo. He has held the world record and the US record in the past, in fact, some of the cars on this list are T1 engineered as mentioned. Notable on the 2400hp+ T1 car is a passive wing that adjusts automatically at different speeds, it replaced their GTR1 Drag Wing which is still used on most drag racing GT-Rs.
9. Viren Singh Nissan GT-R: 7.5s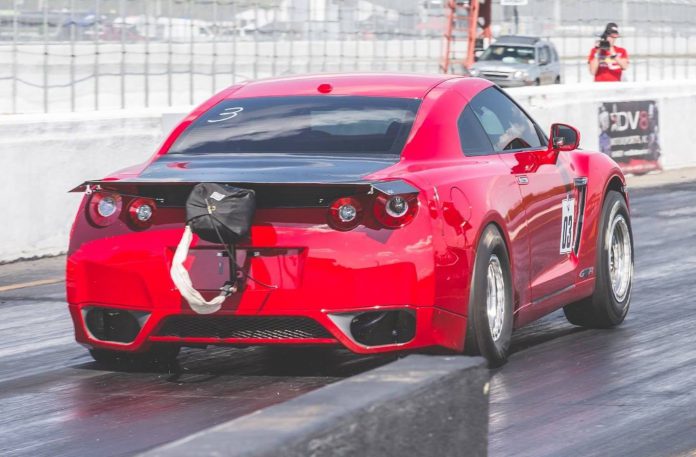 Yet another T1 Race Development GT-R, Singh's latest personal best is a 7.4s at 191mph.
10. Curtis Watson AMS GT-R: 7.66s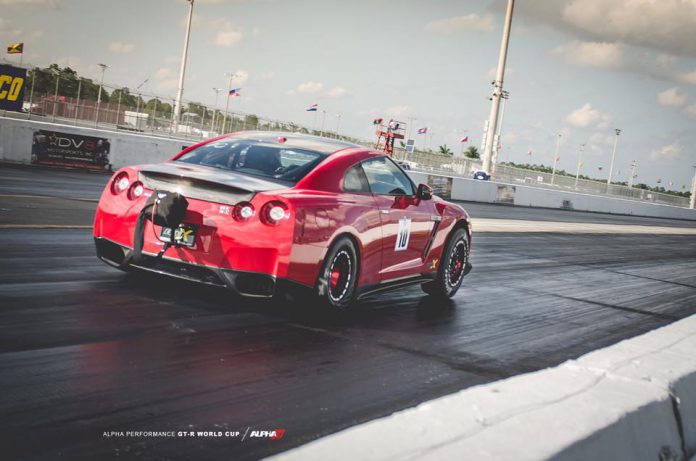 The only Jamaican on the list, Watson's AMS prepped GT-R has a personal best time of 7.66s.
Honorable Mentions
John Shepherd Nissan GT-R: 7.728s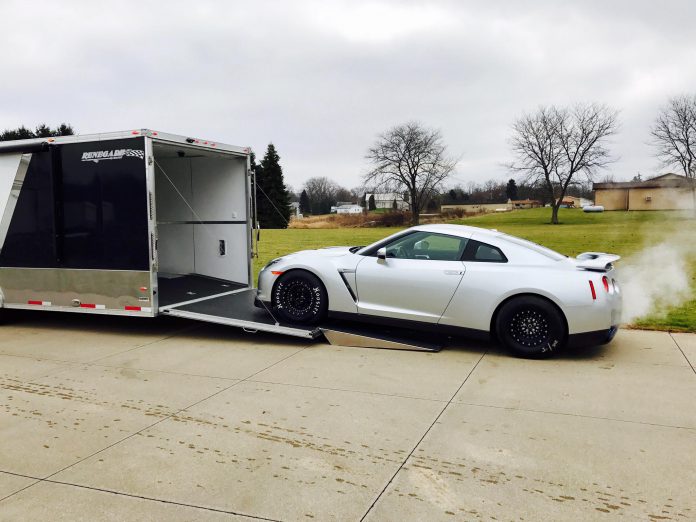 Sheptrans is responsible for the transmissions used on these heavily built GT-Rs. It's therefore not a surprise that they have their own car in the big league as well. Driven by John Shepherd, this particular car has a personal best of 7.728s at 183.34mph.
NB: Help us keep this list to date by submitting recent times when a new record or personal best time is broken.