McLaren Automotive recently announced that it had completed its 10,000th car. The McLaren Production Centre in Woking, England wheeled out a Ceramic Grey McLaren 570S recently, 5 years after the very first McLaren 12C left the production line.
Fittingly, the McLaren 570S had plenty of McLaren Special Operations components with unique paintwork included. The 10,000th car will be retained by McLaren in its Heritage Collection.
The McLaren Production Centre added a second shift in early 2016 which is what has enabled it to step up a gear. Increased volume models such as the McLaren 570S have also helped bring the numbers up from 10 cars per day to 20 cars er day. 2016 was the third year of profitability for the British sports car manufacturer.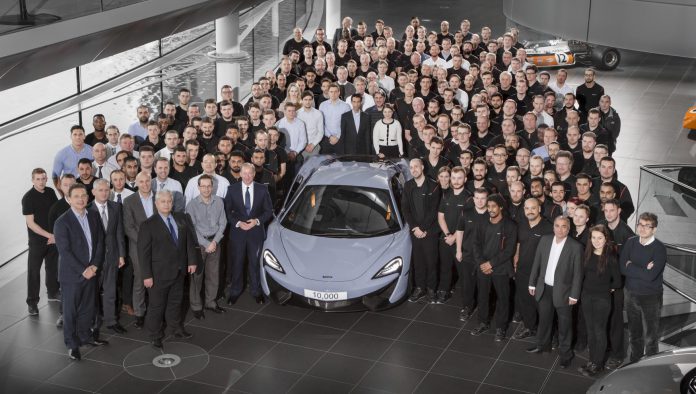 McLaren has a target to double its sales volume from last year. In 2015 it produced 1,654 cars with 2016 set to breach the 3,000 car mark. Over 90% of the cars produced in Woking are exported outside of the UK.
McLaren Automotive Chief Executive Officer, Mike Flewitt, said:
"The production of the 10,000th McLaren is a significant milestone in the short history of the company. The fact that it took us 42 months to build our 5,000th car and just 22 months to build the next 5,000 speaks volumes about the pace of development of the company. Much of that development is thanks to the introduction of the Sports Series family of cars and it's therefore fitting that the 10,000th car is a McLaren 570S."