Last month we had the opportunity of visiting Brabus' headquarters in Bottrop, Germany. It's been a while since we visited the world's largest tuning company so a visit and update from the factory was long overdue. Having arrived at the tuning brand's headquarters, we were presented with an impressive sight: rows of luxury cars covered the massive parking terrain in front of 'Werk 1' or building one. In total the company consists of five buildings spread out over a sizable chunk of land that you best travel by car.
We start our tour of the factory in building one which contains the tuner's showroom and service garage. First order of business is having a brief look at Brabus' actual order book, showing custom orders from all over the world. Unsurprisingly, most come from China and the Middle East, which is growing out to be Brabus' largest market. We were however told that exporting custom vehicles to China is not as easy as it seems. Every custom vehicle has to go through a lengthy bureaucratic process of regulations and taxes, so exporting individual cars is not the way to go for Brabus.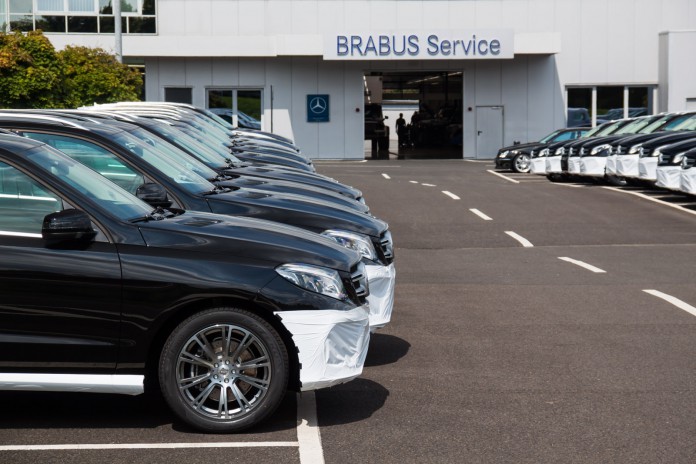 Instead they set up their own dealership in China to which they ship bulk orders of the same cars, only having to deal with the export process once. This means they are taking quite a chance on the Chinese market as they don't necessarily sell all vehicles before they're shipped off to China. At the time of our visit, 600 Mercedes-Benz GLE were awaiting customization and transport to China, to give you an idea of the size of operations.
We continue our tour into the service garage where we are presented with a variety of rare and bespoke cars. One car you simply can't get around is the G-Class 4×4 squared, of which several were being worked on at the time of our visit. This ultimately lead to the question and the first thing you probably didn't know:

1. What happened to the Brabus G-Class 6×6?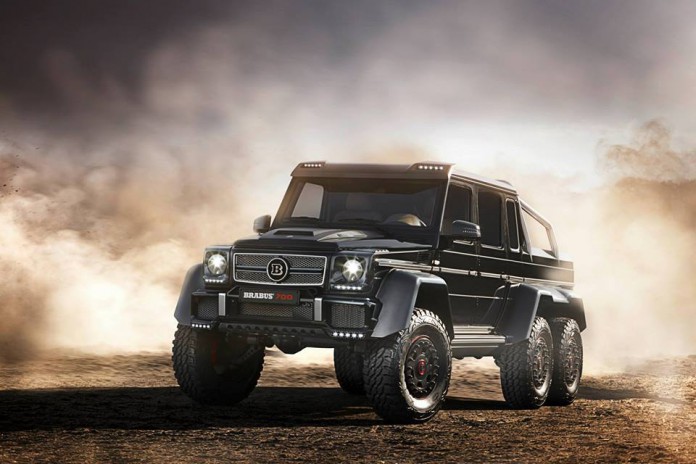 The Brabus G 700, based on the G63 AMG 6×6, was immensely popular over the past few years with absolute highlight for Brabus being their monster sale of 12 examples all in the same country: Malaysia. We asked why Brabus is currently not working on the G63 and the answer is rather simple. Austrian company Magna Steyr, where the Mercedes-Benz G-Class is being produced, is currently not producing the six-wheeled monster from Germany. The reason for that is mainly space, the G 500 4×4 squared is just as popular and they can simply produce and storage more of them than they otherwise can with the 6×6. Whether the massive 6×6 AMG will ever return remains unclear.
Next we take a look at a completely stripped out G 65 AMG that will get its own custom interior to the wishes of its owner. Such a car is in fact directly shipped to Brabus after rolling off the assembly line in Austria, where it get's a partial or full make-over. We were told that this specific project would take about three months, underlining the exclusivity of the work Brabus delivers. It's rather interesting getting a view of a completely stripped G 65 AMG, but very much unreal at the same time as well once you hear that they literally cut out the brand new leather and interior decor.
Brabus Service Center by Niels Stolte / GTspirit.com
This brings us to the sophisticated interior workshop Brabus has in an adjacent facility. High-tech machinery automatically stitches custom chosen leather through software applications making anything possible. There is plenty of hand-work involved too, think of the quilted leather that goes on the seats and extra wishes such as contrasting stitching and custom embroideries throughout the car's interior. We were told that one seat for a custom vehicle could take up to 2.5 days to make.
Talking about the length of a customization process, we discussed recent models such as the new E-Class and all of its new safety and assistance systems. We were told that conversions on cars such as the new E-Class get more complicated by the year because of all these assistance systems, and therefore also take more time. Getting into the specifics of customizing Mercedes-Benz cars brings us to the second thing you probably didn't know about Brabus:

2. Why are all cars equipped with Brabus logos except for the car's steering wheel?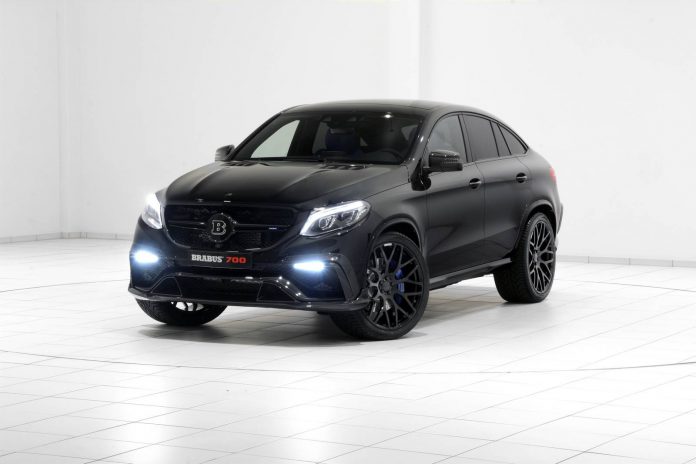 This is an interesting one. For the ones that have been paying attention, the iconic Mercedes-Benz star get's replaced by the big 'B' from Brabus on converted cars except for the one on the steering wheel, and there seems to be a compelling reason for that. It has everything to do with safety and regulations, because the component with the MB star covers the airbag in the steering wheel, it clearly says that it cannot be changed in order to not compromise the driver's safety and well-being. There would be a way for Brabus to develop their own airbag and safety system and get it passed through a variety of automotive safety institutions, it is however a time consuming and rather expensive process to do so. By not tempering with the car's steering wheel a lot of issues are avoided and Brabus cannot be held responsible in the case of an airbag malfunction.
Having talked through some of the details of the Brabus customization process we arrive at the company's partnership with Daimler and specifically the recently launched Smart Brabus. We take a ride to the company's Smart facility where it immediately becomes clear Brabus is dealing with a slight capacity problem. The hyped up version of the tiny citycar has been a great success so far and Brabus is currently dealing with space problems by setting up tents on the factory's parking terrain.
New trucks loaded with Smart cars ready to get a make-over arrive every single weekday and the Brabus team is working overtime in order to keep up with demand. Brabus makes use of the services of several nearby companies to make the customization process as smooth as possible. A nearby facility is in charge of custom paint jobs as Brabus does all the bodywork and interior modifications in-house. Following the success of the Smart Brabus we asked about whether Brabus and Daimler are planning on any future partnerships, official custom versions of Mercedes-AMG for example. The answer is a clear no, other than with the Smart Brabus, there is no sufficient demand for more potent versions of the well-established AMG brand. Not sufficient enough in order to justify larger scale production, that is.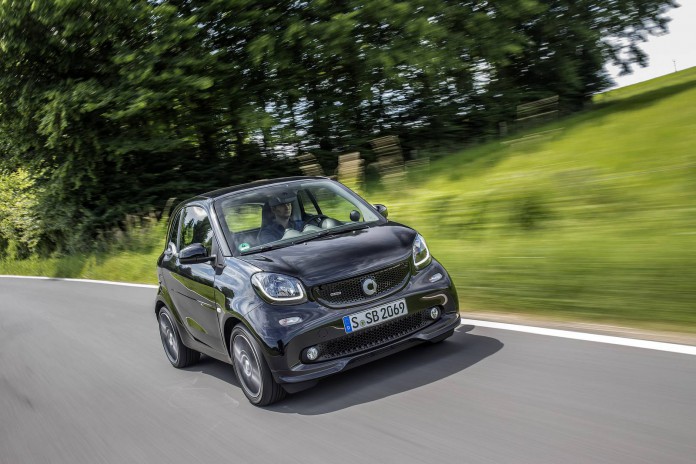 This brings us to the scope of operations at Brabus and subsequently to our third 'thing' you probably didn't know about Brabus:

3. What makes Brabus the largest tuning brand in the world?
In terms of hard numbers there is no doubt about Brabus being the world's largest tuning brand. It delivers an approximate 6,500 cars per year and employs a 450-strong workforce at the company's headquarters in Germany alone. What however sets the tuning brand apart from others is its quality seal and in-house expertise:
– Brabus has a comprehensive team of engineers that develops and builds entirely new engines.
– Almost everything, apart from paintwork and a few other minor details, happens in-house.
– Brabus guarantees a three-year warranty with every by-the-book conversion they do.
Brabus Showroom by Niels Stolte / GTspirit.com
Furthermore;
– They have their own 'noise testing track' which is a very special feature to have as it has to be officially certified by government institutions. In fact, it's the only one in the area and many other companies use it from time to time.
– A seal of quality also means the power to refuse. It often so happens that Brabus get's an eccentric customer that has a wish list that is simply not realistic. In such a case it often happens that Brabus says thanks but no thanks which effectively sets them apart from a range of smaller size tuners that are willing to take any business they can get. The latter could potentially come with a range of safety and quality related consequences that are in conflict with Brabus' standard of quality.
Besides the main brand Brabus, the factory in Bottrop also houses one of Brabus' subsidiary brands called Startech. Ever since 1999 the brand focuses on the customization of British brands such as Bentley and Land Rover.

4. Did you know about Brabus' comprehensive in-house testing facility?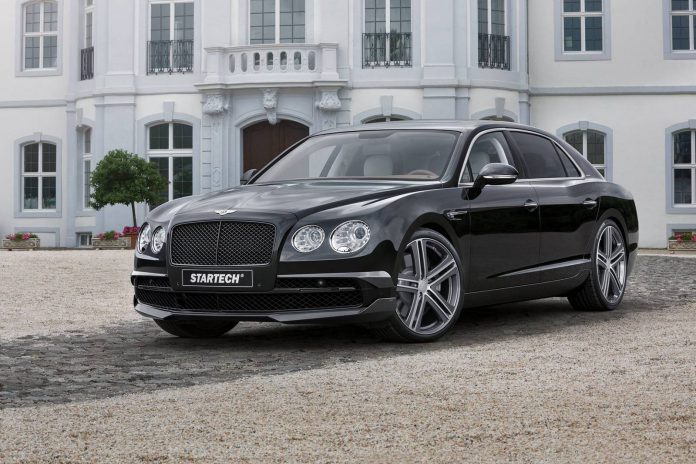 In order to develop its own engines, Brabus' testing center needs to comply with all sorts of regulations and demands and that goes well beyond your everyday dynamo run. The factory features two state of the art 800 kW testing benches in which engines such as the massive Brabus Rocket 900 are being tested. You may have heard of the Rocket 900 upgrade for the Mercedes-Benz S-Class and Maybach models, upgrading the already competent V12 with 700 hp and 1,000 Nm of torque to an insane 1,000 hp and limited 1,500 Nm of torque.
We got a brief sneak peek in the engine construction facility where building the Brabus 900 Rocket is a daily custom. Literally every aspect of the original engine is being taken apart and replaced by Brabus-developed components. From the turbos to the pistons and camshafts to cylinder valves, every single screw is removed and replaced. While this is very impressive, the company's testing bench is arguably even more impressive. It comes with a simulator and automatic gearbox adaption, and can simulate specific racing circuits such as the F1 track in Monaco or the Nürburgring. A huge ventilation unit manages air flow and get's rid of CO2 emissions just as easily.
To conclude our tour we stop by the Brabus Werk 4, which brings us to our final thing you probably didn't now about Brabus:

5. Did you know about Brabus' classic facility?
Brabus Classic by Niels Stolte / GTspirit.com
Brabus has an entire facility dedicated to the restoration and resale of classic cars. A team of experts works on very rare cars on a daily basis and keeps an eye out for ultimate pieces that need restoration. In particular we take a look at a fully restored blue Mercedes-Benz 300 SL which once got the nickname 'Gullwing' because of the way its doors open. Production of the 300 SL commenced in the mid-50's last century and brought the total to 1,400 coupés and 1,848 roadsters. 29 of the coupés are limited-editions with an aluminum body and go under the hammer for insane amounts of money.
This specific 300 SL was entirely restored to factory condition with a completely new engine, leather, etc. all with the use of original components. The nicest detail is probably the matching leather suitcase in the back of the SL, which was fully restored as well. It took the Brabus team approximately 4,500 hours to restore this oldtimer and it has a price tag to match: €2.5 million.
It has to be said that not all classics take that much time to restore. Depending on the condition of the car, the Brabus classics team spends an average of 1,000 – 1,500 hours on restoring a classic. Furthermore they are not limited to working on Mercedes-Benz models either, a look around the showroom shows a variety of intriguing cars including Porsches and Ferraris.
Brabus Impression by Niels Stolte / GTspirit.com
That concluded our visit to Brabus headquarters in Germany and our list of things you probably didn't know about Brabus, make sure to check out the galleries to find out what they currently have in stock!