The new Vision Mercedes-Maybach 6 has finally been unveiled and is currently on display at Monterey Car Week 2016. The sleek and long design has been built purposely to pay homage to the golden age aero coupes while at the same time incorporating the modern day Mercedes-Maybach design concepts and technology.
That said, the Vision Mercedes-Maybach 6 is an all-electric 2+2 coupe, with four electric motors producing 750hp. It has a range of 500 kilometers or 200 miles, with a charging capacity of 350 kW. Additionally, the Maybach 6 can be charged in just five minutes to achieve an extra range of 100 km.
Charging can take place via a cable across any public charging station or the convenient home outlet, wireless charging is also available with the help of an electromagnetic field. The laid back design is enshrined within its six meters long body which includes an extremely long bonnet and the legendary gullwing doors.
Vision Mercedes-Maybach 6
Further to the design is the unique front grille inspired by a pinstriped suit, while the 24-inch wheels were lifted from the Concept IAA vehicle, which features a similar long design. There is also the round boat tail which is well complemented by the rear split window and the aluminium diffuser.
The cabin utilizes a mixture of modern technology, comfort and the traditional concept of the coupe. The Vision Mercedes-Maybach 6 comes with a lounge concept interior that allows for a 360 degrees view among its occupants. Driving is made easy with the help of complex digital displays, such as the digital strip that is used to show key information including seat settings. Driving related information such as location and drive settings can be shown on the large windscreen in full width-transparent manner. The occupants can manipulate this information using gestures.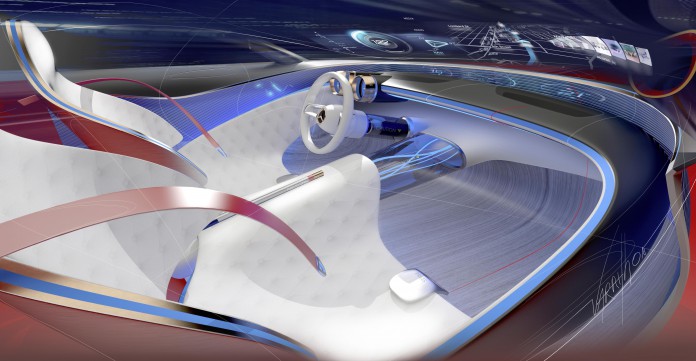 Body sensors located in the cabin are responsible for gathering data related to say the occupants' vital organs, color on their clothes, the seat settings and so on. This information is then used to adjust settings automatically including the seats, cabin color and temperature without the physical activation by the driver and passengers.
Stay tuned for live photos and more details of the Vision Mercedes-Maybach 6 from Monterey Car Week 2016 and Pebble Beach 2016.