What's better than driving a high performance supercar you may ask? I have the clear answer to that: Driving a high performance supercar on a race track and pushing it and yourself to the limit with the help of experienced McLaren coaches.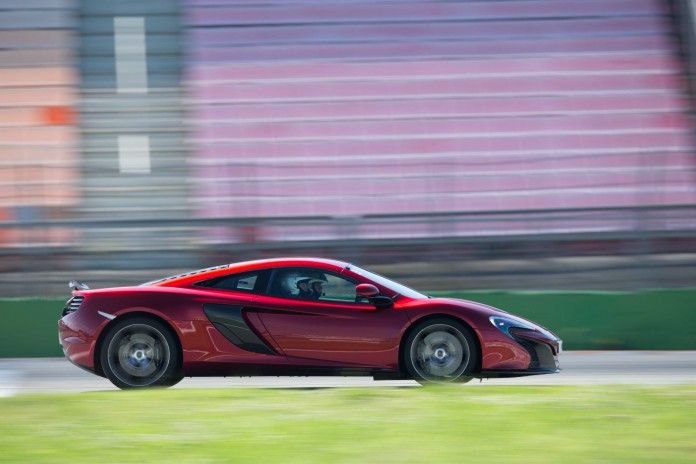 McLaren recently introduce track days for their owners, 7 of which were scheduled on different race tracks in 2016. The circuits in 2016 included: Spa, Circuit of The Americas, Paul Ricards, Brands Hatch, Hockenheimring, Silverstone and Yas Marina.
I was more than happy to join them at Hockenheimring, Germany when Pirelli, as official tyre OEM for McLaren, asked me to do a few laps in a McLaren 650S with their brand new P-Zero Corsa fitted.
Pure McLaren Driving Experience is a rather small circle where owners, who strive to put their cars to the limits and at the same time improving their own driving skills on some of the most iconic race circuits in Europe. That's why a team of skilled McLaren coaches are at every track day to give valuable driving tips on how to find the best line, where to start braking, how best to accelerate and more. Having had some experience with different cars on various racetracks I must admit that the lessons I received at McLaren Driving Experience Hockenheim greatly improved my abilities and although I only had two rather short 15 minute sessions I was able to see what those cars are really capable of.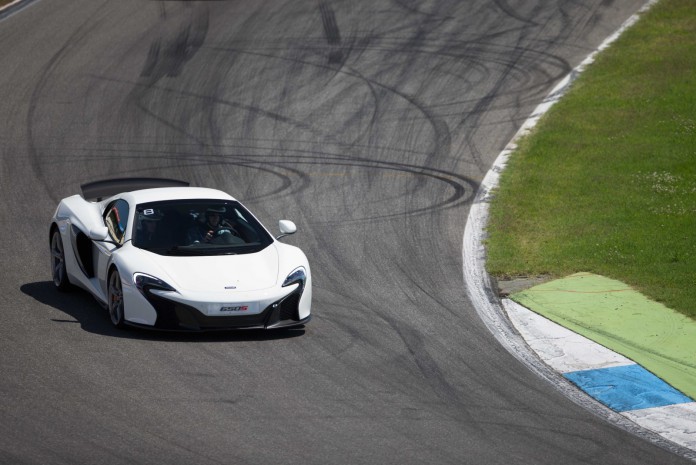 The events are usually divided into three groups, the first being the McLaren Owner Track Drives which is for owners who enjoy driving their McLaren away from the restrictions of the road while also meeting fellow enthusiasts.
The second group is the Performance Academy – Dynamic Principles which is the entry level course where participants use the McLaren 570s fleet to master the power and agility of McLaren cars. This course is new in 2016 and aims at people who haven't been on a race track very often or at all.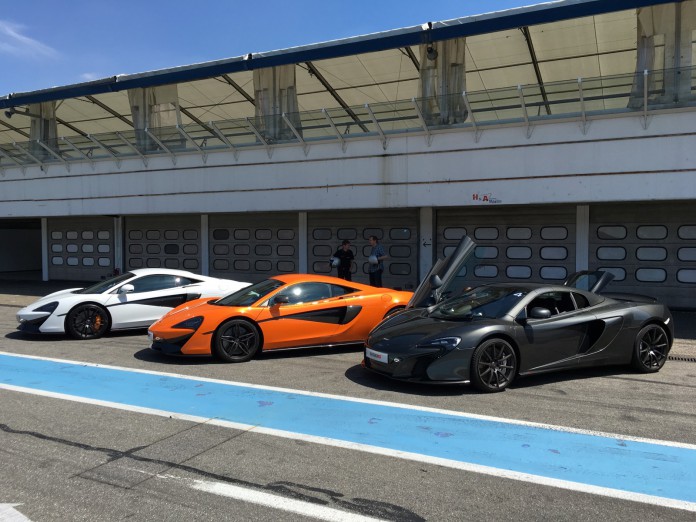 The third group, Performance Academy, is for true track enthusiasts who would like to improve their driving skills and times but already have some experience. With Performance Academy participants can also take their first steps to becoming a performance driver. Performance Academy provides three levels of intensive training in the fleet of McLaren 650S and 650S Sprint Cars:
Club – Introduction to track driving techniques using 650S road cars
Track – Intermediate driver training using 650S road cars
Sprint – Advanced driver training using 650S Sprint racing cars (available at selected tracks only)
All of these groups offer VIP hospitality throughout including lunch, safety briefing, training logbook and a dedicated, personal McLaren Driver Coach.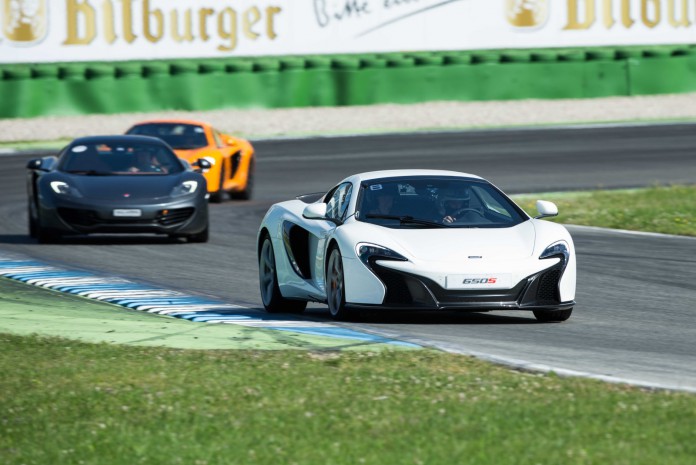 The day at a McLaren Driving Experience course is divided in a morning and an afternoon session and since I was in the afternoon group, the day started with a great buffet style lunch in the McLaren VIP area at the Hockenheimring circuit. Invigorated, I was taken to the driver's briefing with a few other journalists where they explained to us the basics and that the ultimate goal is – safety aside – to improve everybody's driving skills. After that, helmets with integrated radios were distributed so there was easy and flawless communication possible between the driver and the instructor.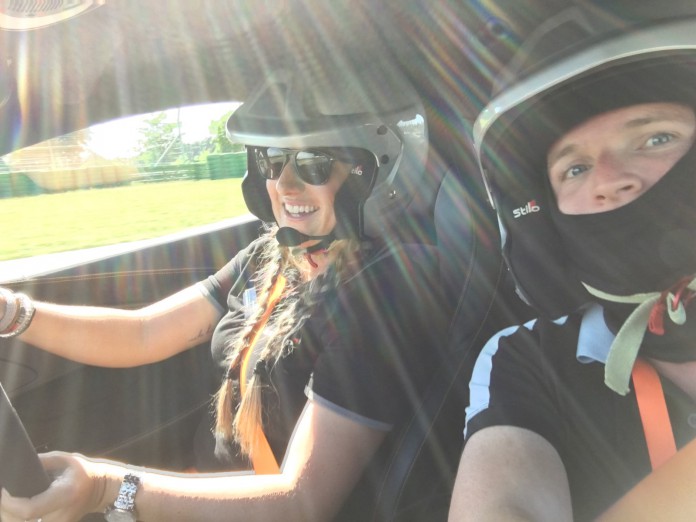 Soon after, it was time for my first session which started with a passenger lap and the instructor explaining to me all the corners and what to look out for to find the best line and optimal braking points. Eagerly I hopped into the drivers seat when it was my turn and slowly but gradually decreased my laptimes. This time the McLaren's settings for suspension and drivetrain were left on normal. Unfortunately time went by way too quick and soon the first session was over. Making room for a group of McLaren owners who were next, I got myself some cold refreshing drinks and a coffee before I got ready for my second session.
In the second session i was allowed to put suspension and drivetrain settings to "Sport" which greatly changed the characteristics of the car – for the better, and more track suited of course. With the help of the instructor, who was by no means a fun killer, I managed to cut down my times with every completed lap but again the 15 minutes went by way too quick.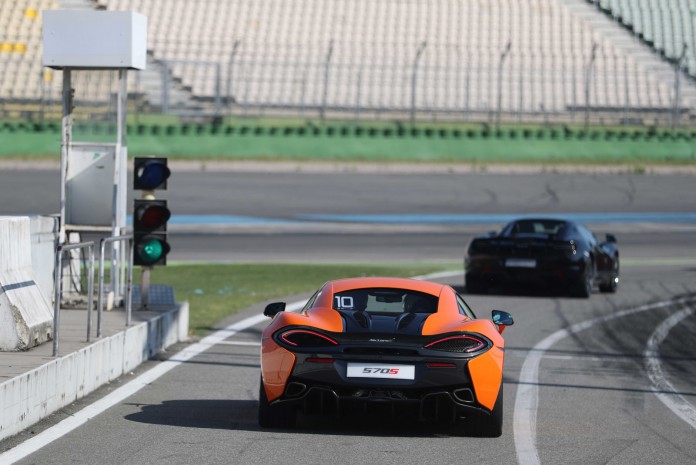 After another meeting with the instructors it was time to say goodbye to the 650S and head back home. Pure McLaren Driving Experience is a great opportunity to find out more about the limits of oneself and McLaren cars, all with the goal of improving driving skills and abilities. Of course McLaren also promotes their newly established racing classes, where owners can compete.
A huge thank you to McLaren and Pirelli for hosting me!
[youtube]https://www.youtube.com/watch?v=gFulkblhPqY[/youtube]