Audi has finally broken the Norisring spell this weekend at the fourth round of the 2016 DTM season, claiming victory in both races. The Ingolstadt-based brand has been trying for more than a decade to score a win here but in vain. Mercedes-AMG has dominated in Norisring since 2003, but Edoardo Mortara brought their streak to an end by winning Race 1 yesterday in his Audi RS5 DTM. Nico Muller sealed a perfect weekend for Audi by winning Race 2 today, his first DTM victory!
Race 1
It was Christian Vietoris who started from pole for Mercedes-AMG leading Mattias Ekstrom who has been on a roll this year in both DTM and FIA World RX. Robert Wickens managed to pass Ekstrom shortly after the start giving Mercedes-AMG a provisional 1-2. In his attempt to reclaim back second, Ekstrom struck Wicken's car before hitting Vietoris, an incident that changed the outcome of the race.
Wickens was quite mad, and he didn't hide it, "He is an idiot. I haven't got a clue what he was thinking there."
Ekstrom on the other hand was quick to admit his mistake, "I wanted to get past under braking on the inside and I tangled with Robert. Thus, I was unable to react and unfortunately, I hit Christian in the corner. That is very bad for him and I will go and see him to apologise for it."
Meanwhile, pole sitter Vietoris responded by saying, "Everybody in our team is working really hard. Losing out on the reward for these efforts by a move like Ekström's is unacceptable to me. Today, a win or at least a podium finish would have been within reach. Now, I am empty-handed. In such a case, apologies don't help much either."
Mortara and Jamie Green benefited from the incident and moved quickly into the lead. Mortara had jumped to fourth prior to the accident while Green dropped back to fifth. The two remained close to each other throughout the following laps before Mortara crossed the finish line first, leading Green and the Mercedes-AMG C63 of Paul Di Resta.
Behind Di Resta came three BMW drivers namely Marco Wittmann, Bruno Spengler, and Maxime Martin.
Race 2
Nico Muller claimed his maiden DTM win to seal a full round victory for Audi on Sunday. All this was made possible after 43 laps when he made a perfect pit stop which instantly put him into the lead. Muller led from that point onwards in the 72-laps race of the shortest circuit on the calendar.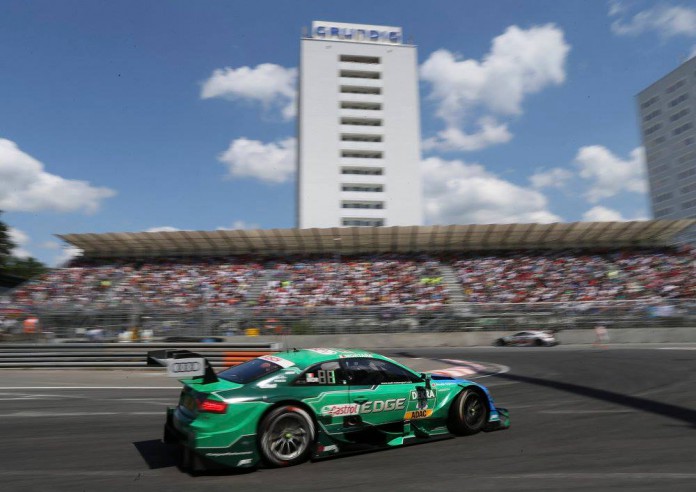 BMW scooped P2 and P3 with Tom Blomqvist from the UK and Maxime Martin respectively. Mercedes-AMG were put in fourth and fifth by Paul Di Resta and Lucas Auer, while local hero Marco Wittmann scored P6 in front of his home crowd.
That P6 finish for Wittmann was good enough to put him on top of the championship standings with 75 points, leading Mortara – who finished 8th – with 73 points, and Di Resta in third.
Round 5 of the season will head over to The Netherlands on July 15 where Race 9 and 10 will take place.