The 2016 Formula 1 season has officially kicked off in Melbourne with the Australian Grand Prix. Mercedes-AMG has reignited their dominant spirit by setting the fastest times during free practice as well as winning pole in their fashionable 1-2 finish style.
Australian Grand Prix 2016 Qualifying Results
1. Lewis Hamilton – Mercedes-AMG F1
2. Nico Rosberg – Mercedes-AMG F1
3. Sebastian Vettel – Scuderia Ferrari
4. Kimi Raikkonen – Scuderia Ferrari
5. Max Verstappen – Toro Rosso
6. Felipe Massa – Williams
7. Carlos Sainz – Toro Rosso
8. Daniel Ricciardo – Red Bull
9. Sergio Perez – Force India
10. Nico Hulkenberg – Force India
With the new supersoft tire in play now, cars are significantly quicker per lap than before as evidenced during free practice. Red Bull drivers Daniel Ricciardo and Daniil Kvyat were the early leaders of the final FP session having bolted on the red marked supersoft tires, the Mercedes duo of Lewis Hamilton and Nico Rosberg were on soft rubber but still managed to take P2 and P1 respectively halfway through the race.
Sebastian Vettel then switched to supersoft tires in his Ferrari SF16-H before passing both Rosberg and Hamilton for P1. When Mercedes bolted on the same red-marked tires, Hamilton blasted through to P1 with a 1m 25.624s lap while Rosberg followed him into P2. Vettel settled for P3 leading Toro Roso's Carlos Sainz and fellow Ferrari driver, Kimi Raikkonen.
2016 Formula 1 Australian Grand Prix
When qualifying kicked off this morning, drivers were vamped for a new format that was only introduced weeks before the Aussie GP. The format still retains the same three-session in the manner of Q1, Q2, and Q3 but the elimination style has changed. The slowest drivers are not eliminated in mass numbers at the chequered flag, instead, they will be eliminated at different intervals.
Q1 lasts for 16 minutes and the first eliminations take place after 7 minutes where the slowest driver is kicked out. Six more drivers are eliminated at 90-seconds intervals. 15 drivers then head into Q2 where the slowest driver is kicked out after 6 minutes, followed by 90-seconds eliminations. The final 8 drivers head into Q3 for the pole battle – here, the slowest driver is eliminated after five minutes. The remaining drivers are eliminated during the 90-seconds intervals until two drivers are left on the field to fight for the win.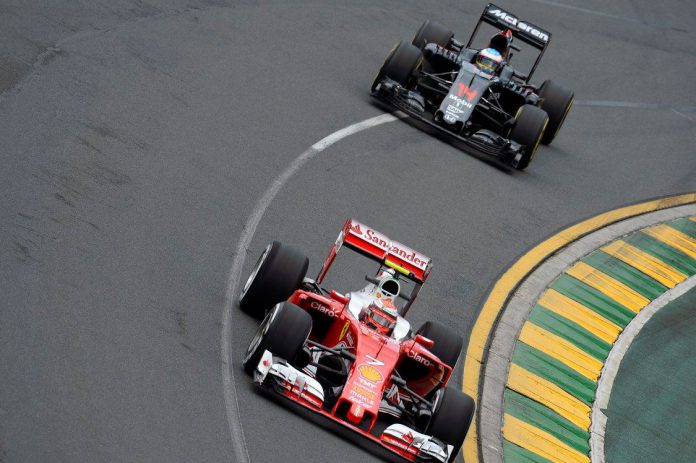 That said, Rosberg was the first man to head into Q1 leading a batch of other drivers including Hamilton. At this point everyone was fighting to stay atop the timesheet to avoid being eliminated. And after seven minutes, newcomer and Manor's Pascal Wehrlein was eliminated. Meanwhile, Hamilton set the fastest time but the main action was at the back field where eliminations were now taking place after every 90 seconds.
Among those eliminated in Q1 were Rio Haryanto, Gutierrez, Kvyat and Ericsson.
Q2 was not any different, a series of fast lap with Hamilton setting the quickest time while Sergio Perez, Kevin Magnussen, Valtteri Bottas, Fernando Alonso, Jenson Button and Palmer were all eliminated.
Q3 was less engaging with the first elimination taking place five minutes after the green flag. Ricciardo was the first to drop out followed by Sainz and Verstappen. Massa was caught by the ticking clock while in the pitlanes, meaning he was gone too. Hamilton, Vettel and Rosberg were left to fight for pole but the Brit set an even quicker lap to win his 50th Grand Prix pole – and becoming the third person to do so after Ayrton Senna and Michael Schumacher.
Rosberg claimed P2 while Vettel settled for P3 to end a new yet 'strange' morning qualifying session in Melbourne.