Monday 7th March 2016 is a particularly important date for BMW, on this day 100 years ago the company was founded and to commemorate such an impressive milestone BMW officially took the covers off the BMW Vision Next 100.
The centenary was the perfect opportunity for BMW to take a look into the future and try to imagine how we will travel. In the coming years the ways in which we get around will be more diverse than ever before. We are already seeing cars that are driving themselves and dozens of robotic concepts that will make travel easier and more accessible. The purpose of the Vision Next 100 is not to follow the move to autonomous driving, but instead to create a car that caters to a drivers ever need.
The visual design of the car has been taken from previous BMW models as well and futuristic design philosophies. Adrian van Hooydonk, Head of BMW Group Design: "If, as a designer, you are able to imagine something, there's a good chance it could one day become reality. So our objective with the BMW VISION NEXT 100 was to develop a future scenario that people would engage with. Technology is going to make significant advances, opening up fantastic new possibilities that will allow us to offer the driver even more assistance for an even more intense driving experience."
BMW are very clear to highlight that BMW drivers will be able to let their cars do the work – but only when the driver wants. The BMW VISION NEXT 100 remains a genuine BMW, offering an intense experience of Sheer Driving Pleasure.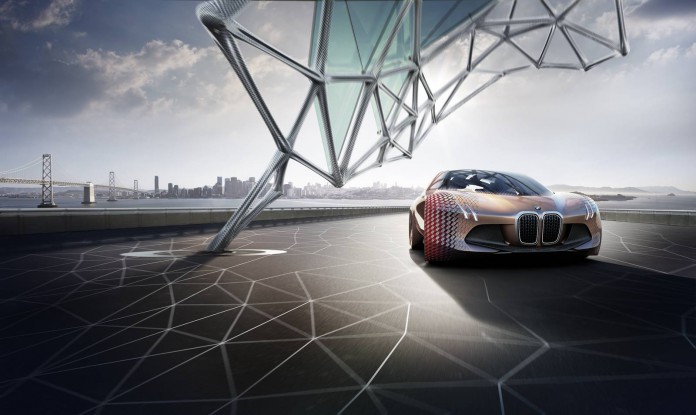 The construction of the concept is more futuristic than ever before. The days of heavy steel parts will be consigned to history. Many of the parts have been designed to be compatible with technologies such as rapid manufacturing and 4D printing that will produce not components or objects but intelligent, networked materials and could soon replace conventional tools to open up unimagined possibilities in design and engineering.
Visually the car is extremely striking, even for a concept car. There are flowing coupe lines and tense angles that certainly make give the car a real aggression. The large wheels are positioned at the outer edges of the body, giving the vehicle the dynamic stance that very much in keeps with BMW style. When it comes to aerodynamics, exterior Alive Geometry contributes to an outstanding effect: when the wheels swivel as the vehicle is steered, the bodywork keeps them covered as if it were a flexible skin, accommodating their various positions. The innovative design of the BMW VISION NEXT 100 gives it an extremely low drag coefficient of 0.18. The interior is just as dramatic with sharp angles and a number of never seen before materials.
The car is a hint to what we can expect to see in the coming years from BMW. Who knows what we will be looking at in another 100 years time!