German BMW tuning specialist G-Power have recently developed a customization program for the BMW X5 M50d (F15). In its stock condition it can already be characterized as a true torque monster, and G-Power managed to increase the performance output of the X5 M50d even more.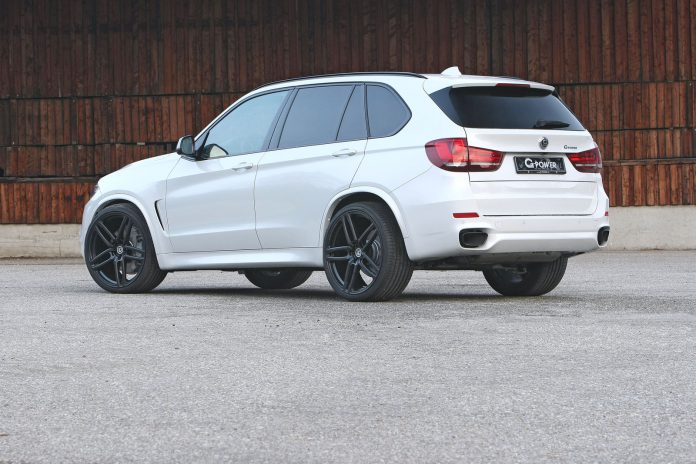 Upon delivery, the standard BMW X5 M50d contains no less than three turbochargers to accommodate its 3.0-liter V6 engine with sufficient boost pressure. The diesel-powered SUV produces 381 hp (280 kW) and an insane 740 Nm of torque. G-Power raises this output by using the G-POWER D-Tronik 5 V1 power module or D-Tronik 2 V1 ECU remap, resulting in an impressive 455 hp and 870 Nm of torque.
Complimenting the immense power upgrade are a set of 23" HURRICANE RR forged wheels. Consisting of ultra-light aircraft-grade aluminum elements and featuring a weight-optimized design, the wheels play their part in taking the G-Power BMW X5 M50d to the next level. In addition to contributing to the car's speed and performance in general, the wheels also reduce the rotary moments of inertia ultimately leading to a more comfortable and agile ride.
Available in the dimensions 11.0×23" and fitted with 305/25 ZR23 high-performance tires, these high performance wheels are a true finishing touch to the G-Power BMW X5 M50d. Best part is that they come in different color schemes as well, letting customers choose from "Jet Black", "Gun Metal Grey" and "Stardust Silver". Big spenders can additionally opt for a diamond cut finish and a full polish, as well as make use of a bespoke service that let's customers engrave a personal signature on each of the wheels.
More details and prices on both the power upgrades and wheels can be found in G-Power's online shop.