McLaren will display a full-carbon, MSO perfected McLaren P1 at the Geneva Motor Show 2016. This particular McLaren P1 is one of the highest specification cars to leave the production line. The owner chose a whole range of different bespoke options, including the full carbon fibre bodywork.
The headline modification is the full visual carbon fibre body with a bespoke 'Lio Blue' tinted lacquer. At least one other full carbon McLaren P1 has been delivered and was made available to McLaren P1 customers earlier in the year.
The owner of this particular car went for some other choice upgrades. The car gets a gloss black finish to the wheels. The interior includes a retrim of the interior with carbon black Alcantara and contrasting blue stitching. The final bespoke element is a 24-carat gold exhaust heatshield as a homage to the McLaren F1.
Full Carbon McLaren P1 by MSO
The full-carbon McLaren P1 by MSO will be joined at the Geneva Motor Show 2016 by a carbon fibre-themed McLaren 675LT Spider, also prepared by MSO. The McLaren 650S GT3 racing car will also be on display together with and a yet-to-be-announced addition to the Sports Series family.
Mechanically, we believe that the Lio Blue full-carbon McLaren P1 will be identical to the P1. The 3.8 litre twin-turbo V8 and electric motor make a combined output of 903 bhp. The P1 weighs in at just 1,547 kg and manages a 0 to 100 km/h time of 2.8 seconds with an electronically limited to a top speed of 350 km/h (220 mph).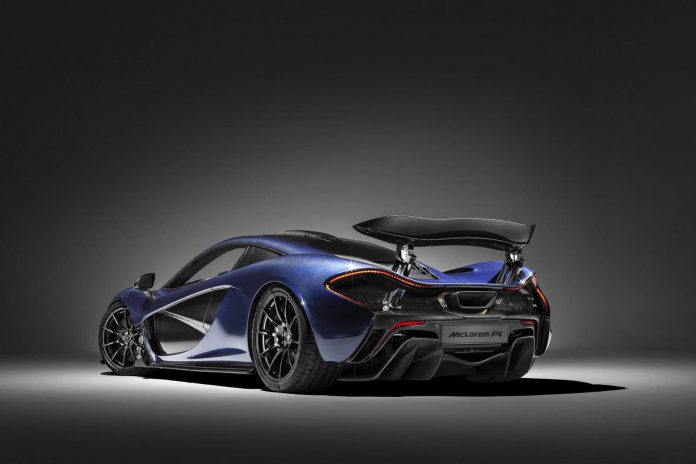 The McLaren P1 production run came to an end in December 2015 so we are assuming that this car is one of the existing production run, re-bodied and reupholstered by MSO. We will be live from the Geneva Motor Show 2016 at the beginning of next month so will be able to bring you exclusive photos and information. Stay tuned for more!