The internet went into meltdown recently when it was suggested that Justin Bieber had pre-ordered a LaFerrari. The rumours seemed to be confirmed this week when he posted an Instagram photo sitting on a LaFerrari. Thanks to Effspot we can now confirm that the car in question was actually owned by Formula 1 ace Lewis Hamilton.
It seems that the two were out for a drive recently in West Hollywood, visiting popular celebrity hangout BOA Steakhouse at 9200 Sunset before a quick ride up Sunset. Lewis Hamilton seems to travel everywhere in a low gear which means there's plenty of V12 noise to listed to in the above video!
Hamilton's LaFerrari is pretty distinctive as it features plenty of red painted carbon fibre parts, including a red rear diffuser. Its thought that Bieber left his Liberty Walk 458 Italia with the valet at 9200 Sunset before hopping into Hamilton's hypercar for the ride. Things didn't go entirely to plan though as it seems Hamilton forgot to turn on the headlights until halfway into the trip.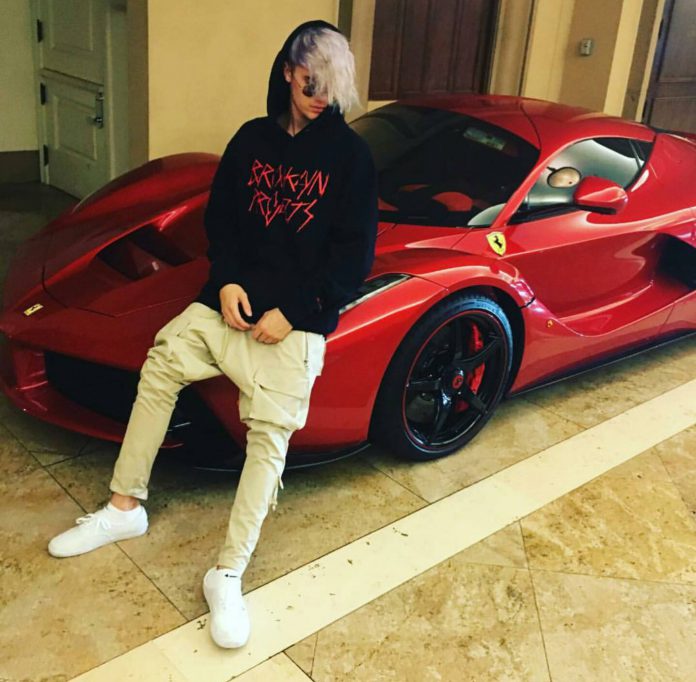 Lewis Hamilton is well known for his collection of hypercars. His most high profile car is his Pagani Zonda 760 LH, however, he also owns a McLaren P1, an AC Cobra, a Ford Mustang and a Mercedes-Benz SL 65 Black Series. He only seems to be missing a Koenigsegg and a Porsche 918 Spyder from his ultimate current hypercar collection!
By contrast, Justin Bieber's collection is less celebrated. He seems to favour his Liberty Walk Ferrari 458 Italia at the moment. In the past he has been spotted in a custom Cadillac CTS-V, a chrome Fisker Karma, a rented Lamborghini Aventador and even a matte black smart car. In fact, we understand Jstin Bieber is most often spotted in the back of a matte black modified Mercedes-Benz Sprinter van!