Stage 6 of the Dakar Rally 2016 went down yesterday and was one of the longest so far, the cars, bikes and quads covered a distance of 542 km while the trucks had a shorter distance of 295 km.
Sebastien Loeb who was leading the cars category suffered a misfortune after picking up a puncture before facing an electronics failure. The Peugeot driver was thus forced to fall back and had to finish 8 seconds behind the stage winner – fellow Peugeot driver and most successful Dakar Rally driver, Stéphane Peterhansel.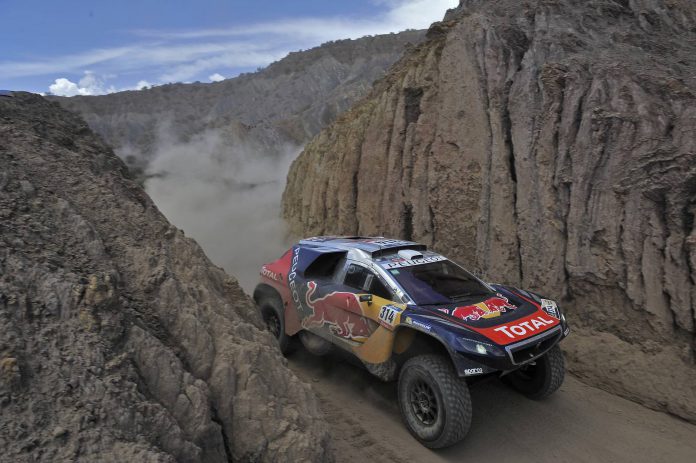 Peugeot was still in good hands as Carlos Sainz managed a second place finish in this stage. Peterhansel now leads the overall standings with a 27 seconds advantage over Loeb while Sainz sits in third place.
Toby Price emerged on top once again in the bikes category beating Honda's Paulo Gonçalves. Ruben Faria dropped out of the stage with a fractured wrist while Joan Barreda dropped down the rankings after suffering multiple mechanical problems in his Honda. Gonçalves still leads the overall standings away from Price and Matthias Walker.
The Patronelli brothers defined the order of the day in the quads category after taking first and second place in their Yamahas. Marcos Patronelli claimed the lead ahead of his brother Alejandro Patronelli. In the overall standings, Alejandro is now in the lead ahead of Marcos and Russian Sergei Karyakin.
Hans Stacey now leads the standings in the trucks category after an impressive drive yesterday. The stage was relatively shorter but full of action, fellow Dutchman Peter Versluis is now second in the overall standings leading Argentinian Federico Villagra.
Today's Stage will run from Uyuni to Salta over a distance of 793 km albeit the actual stage distance totals to 353 km.