Sebastien Loeb is on fire at the Dakar Rally 2016 after scoring his third stage win in the second part of the marathon yesterday. Stage 5 started from Jujuy where the first part of the marathon was held, and ended in Uyuni after a distance of 327 km.
Loeb yet again led an all Peugeot podium in Stage 5 after demonstrating sheer navigation prowess guided by his co-driver Daniel Elena. The nine time WRC champion held off Dakar Rally master Carlos Sainz in another Peugeot and Stage 4 winner, Stéphane Peterhansel in the other Peugeot 2008 DKR. Sainz and Peterhansel finished second and third respectively. Last year's winner Nasser Al Attiyah came home fourth in his MINI.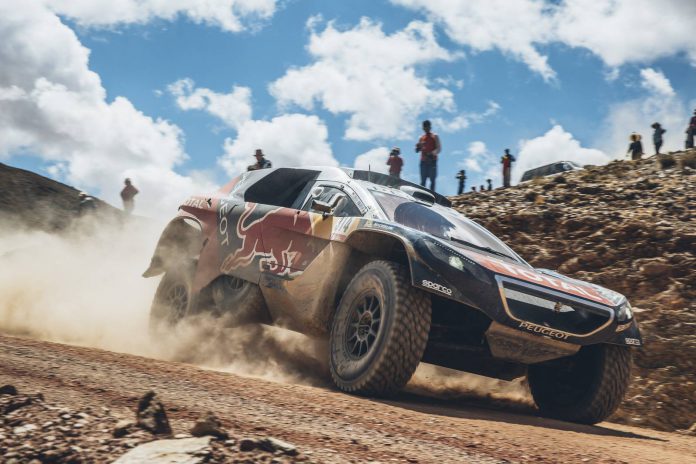 After the stage win, Loeb extended his overall lead in the standings away from Peterhansel and Sainz.
In the bikes category, it was KTM rider Toby Price who claimed the win enabling him to move up to third place in the overall standings. Antoine Meo finished second ahead of Stefan Svitko. Paulo Gonçalves still leads the overall standings in this category away from Svitko. The quads faced various challenges including crashes and mechanical problems, eventually it was Alexis Hernandez who won the stage.
Kamaz driver Eduard Nikolaev won the stage in the trucks category leading Czech and Tatra driver Martin Kolomy. Federico Villagra finished third but is now the leader in the overall standings with Peter Versluis and Hans Stacey in second and third respectively.
Dakar Rally 2016 Stage 5 Jujuy to Uyuni
Stage 6 will run through Uyuni today, stretching over a distance of 723 km albeit the actual stage distance is 542 km for the bikes, cars and quads and 295 km for the trucks.