Moon Sand is one of Feadship's new superyachts in 2015 joining Halo, Kiss and Savannah. Launched in April, Moon Sand bestows the finest offerings from the Dutch shipyard featuring Feadship De Voogt Design and Bannenberg & Rowell Design. As with all Feadship projects, the owners played a central role in the design and personalization of the superyacht.
Guiding the design of the Moon Sand superyacht was three key elements – light, space and freedom of choice. The windows are significantly huge to allow maximum sunlight inside the cabins while the aft deck offers extensive space for sitting on the main deck and bridge deck. Even the staircase design was made in such a way that it maximizes the space.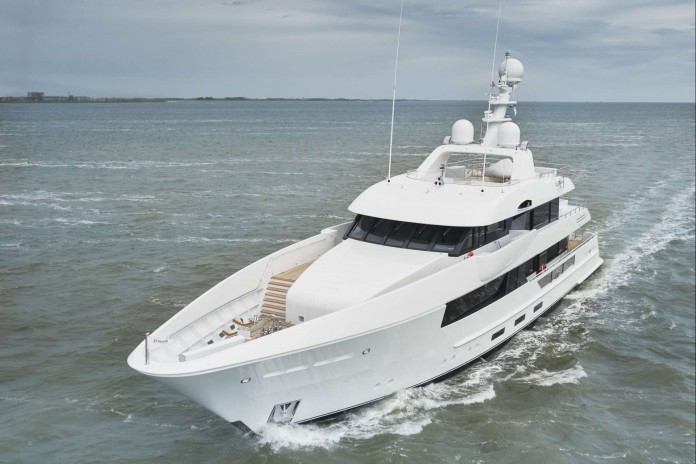 One interesting feature on the Moon Sand superyacht is the location of the tender which instead of placing it in a traditional garage, the designers put it on the sun deck. This ensures that the swimming pool on the main deck enjoys even more space. In addition to that, there is a floor lowering system that allows one to vary the depth of the swimming pool. There is a crane on the sun deck which is used to lift and lower the tender into the water.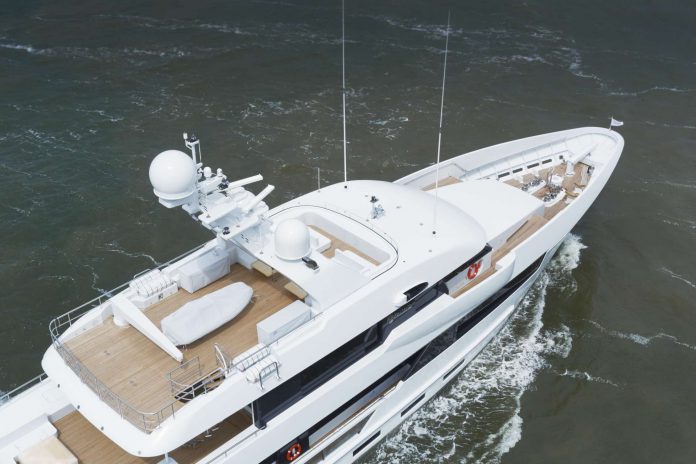 Feadship further explains that the swimming pool design was one of the most customized areas on Moon Sand. By using the floor lowering system, the swimming pool can be set to suit adults, kids and later on transforming the whole area into a dinner section by raising the floor completely.
Superyacht Moon Sand has an overall length of 44.2 meters and is powered by two Caterpillar C32B engines rated at 896 kW each. They are coupled to two Kohler 150 EFOZD generators rated at 150 kW and 50 Hz each.
Speaking about Moon Sand, the owner said, "Even the smallest details are important to Moon Sand's owners and I'm proud to have been a part of this project. Working with Feadship makes everything achievable as it knows that the key to a truly magnificent yacht is not just what you see, but also the meticulous attention to detail that you don't. Moon Sand is the result of a collective passion from the owners, designer and shipyard to deliver a truly exceptional yacht and – as one of the most specified ever in her class – she is precisely that."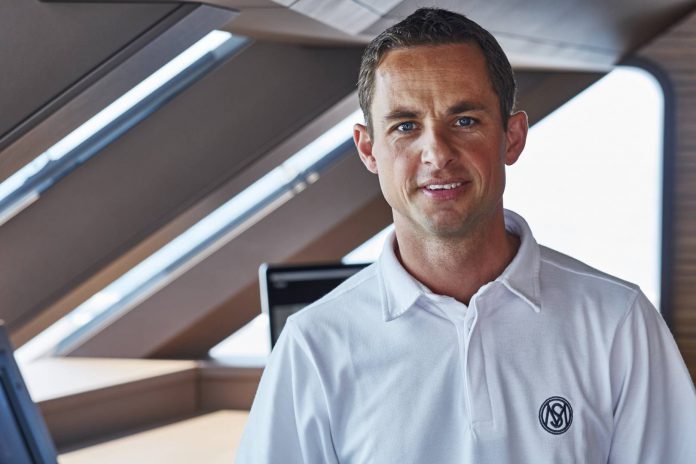 Moon Sand's Captain Lorian Smith was also impressed by the yacht and said, "Our two-week shakedown cruise to the Baltics and Scandinavia was an awesome experience. Moon Sand is lovely to drive: we came out of Norway with a three-metre running sea and she handled like a dream, doing 19 knots down the waves in complete stability. Her designer Tanno Weeda is an absolute genius!"
According to information on Marine Traffic, Moon Sand is currently moored at a port in West Palm Beach.