Dutch shipyard Feadship has headlined the yachting scene in the last few days with the launch of their new superyacht 'Halo'; a 57-meter superyacht that was presented in a private ceremony at the Feadship Kaag yard. The project was built in a record time of 33 months as requested by the owner who had previously spent time with the Feadship Helix superyacht before commissioning Halo.
Being a bespoke project, the design work involved the owner extensively alongside the professional design team. The exterior design was created by Eidsgaard Design. Halo has a striking white and dark theme on the outside thanks to the dark windows and white surfaces on most parts of the hull. There are silver metallic arches that run from the bridge over the sun deck, giving room for the sunroof and side tracks.
Speaking about the design, Peder Eidsgaard said, "From a quarter-front view, the signature silver arches appear to run up, over and down the aft end of the yacht. As Halo drives past, however, observers will notice that the aft tip of the arch is actually turning upwards. This creates a subtle playful tail, which is an important part of the yacht's character."
Halo's design is largely inspired by a water-loving enthusiast who intends to make the most out of water activities. The sun deck alone is uniquely large for a 57-meter yacht, there is a large jacuzzi as well which is covered by a canopy that slides in and out electronically. There are two large garages housing two 8-meter tenders as well as a range of other diving equipment including 28 bottles. Halo has a cruising speed of 16 knots and an astounding range of 5000 nautical miles.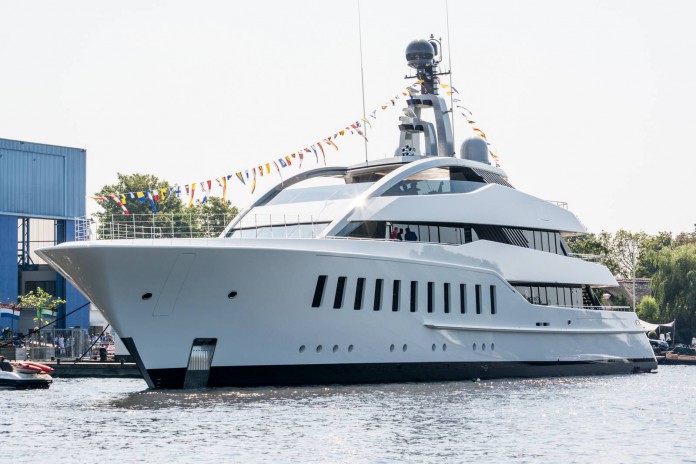 The interior design was done by Bernardi Peschard which also happened to be the firm's first superyacht project. A striking touch of modern materials include light oak, dark woods and bronze on the interior elements. The owner's stateroom comes with his and her bathroom, there are four guest suites and one VIP stateroom all on the main deck enjoying the same amount of panoramic views. Additionally, Halo comes with a crew of 14.
Speaking to the owner, Feadship director Dick van Lent said, "We were delighted to respond to your request after you enjoyed the Feadship experience during a charter trip onboard Helix"
"After you had felt for yourself the perfect craftsmanship, fine detailing and unrivalled comfort at sea that a Feadship offers, you challenged us to build an extraordinary custom superyacht of your own. This short timeframe required an extensive amount of 3D modelling during the engineering design process and leveraged on the enormous organisational experience of the craftsmen at Feadship. Thanks to the close cooperation with the exterior and interior designers, Halo is a remarkable achievement in every respect."