On October 17, Pagani celebrated the opening of its very first showroom in Asia. The dealer is located in Xintiandi, Shanghai and at the event was company founder Horacio Pagani.
The showroom building itself has been designed with distinct Italian style to reflect Pagani's heritage and its home country. Found throughout the showroom are a selection of artworks of Pagani's various models as well as displays of some of its most impressive carbon fibre components.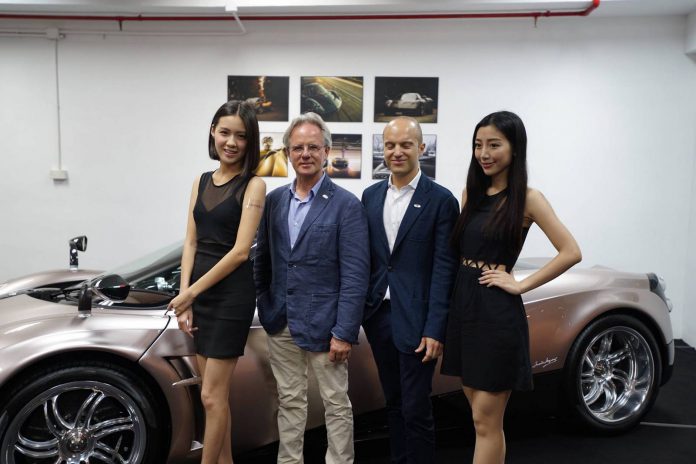 Soon, the dealership will also provide customers with a real-time 3D car configuration system and for the moment, will help with deliveries of remaining Huayra models. Alongside providing an outlet for Huayras to be specced and ordered, the showroom also incorporates a complete service centre, ideal for local Pagani owners.
Pagani initially announced its configuration tool in August after teaming up with ZeroLight with it set to add an entirely new element to the experience of buying a Pagani.
[showhide]
"Pagani, the legendary Italian ultra-luxury sports car maker, celebrated the grand opening of its first showroom in Asia in an unveiling ceremony held in Xintiandi, Shanghai on October 17, 2015. During the ceremony, Pagani presented the new Huayra Dinastia limited edition custom-made for the Chinese market to the public. Its founder, Mr. Horacio Pagani, graced the occasion and witnessed this exciting moment for Pagani with guests and the media in attendance.
Just as every individual is unique, so is a supercar. Born in Modena, a small Italian town known as home to supercars, Pagani believes in finding a perfect match between technology and the art of car design and has created many truly unique models which have achieved legendary status. The company has earned a reputation for ingenious handcraft and ultra-luxury customization. Each Pagani model is equally as high performance as it is rare, and becomes a highly sought after piece of art by top sports car collectors from around the world.
Pagani's venture in China demonstrates the companys confidence in China's domestic market and proves its strategic importance in the global automobile market. Located on Hu Bin Road, Xintiandi neighborhood, the modern landmark of Shanghai, the first Pagani Asia showroom is an Italian-style building featuring unique, chic décor, and is an expression of Pagani's preferred aesthetic and innovative spirit. The high-tech carbon fiber elements as well as the proprietary hardware dotting the showroom all showcase the brandÕs inherited tradition of marrying technology with art and full customization.
In the showroom, besides Pagani's exclusive service, customers will be able to experience the brand first hand and feel the charm of its auto culture and warmth that comes from a family brand. The showroom will add a real-time 3D car configuration system in the near future to allow a customer to see the specifications of his dream car and preview it in its entirety.
The Pagani China Automotive Service Center Opening in Hong Kong on 21/10/2015"
[/showhide]