A brand new 2016 Porsche 911 GT3 RS has just been listed up for sale from Seven Car Lounge in Riyadh, Saudi Arabia. Considering the new GT3 RS sold out soon after its introduction, it's inevitable that this example will sell for a hefty premium over the starting price of the rear-engined, German sports car.
No mileage details of the car have been provided but considering it is a 2016 model, it'll inevitably only have delivery miles on it. Alongside the silver paint scheme, it includes a set of aggressive matte black centre locking wheels, matte black across the front splitter, side skirts and rear diffuser alongside matte black rear wing uprights and endplates. Yellow brake calipers complete the exterior look.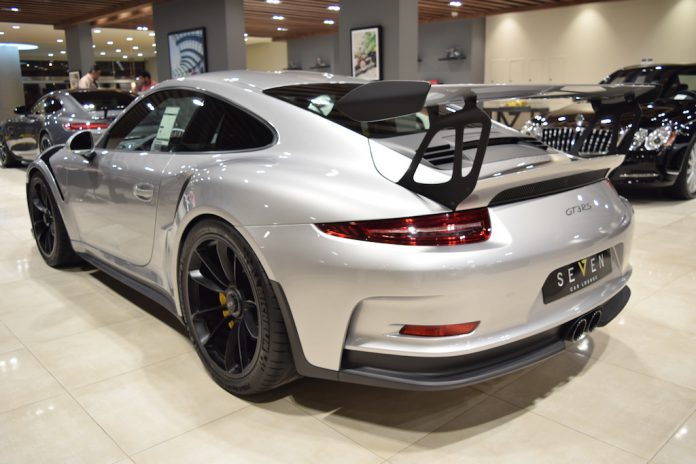 Inside, this 911 GT3 RS has been outfitted with a number of black leather and alcantara components. Additionally, it features bright yellow seatbelts perfectly matching the brake calipers.
In case you didn't know, the 2016 Porsche 911 GT3 RS uses a brand new 4.0-litre six-cylinder engine which remains naturally aspirated. It has been tuned to deliver 493 hp (the same as the 997 GT3 RS 4.0) but now delivers 384 lb-ft of torque which is 15 lb-ft more than the GT3 RS 4.0. Additionally, these figures represent a 25 hp and 60 lb-ft increase over the current 911 GT3.
As always, the new Porsche 911 GT3 RS features rear wheel drive and the aforementioned six-cylinder engine is coupled to a seven-speed dual-clutch PDK transmission. When combined with an advanced torque vectoring system and a variable locking differential, Porsche claims the new 911 GT3 RS will lap the famous Nurburgring Nordschleife in 7 minutes and 20 seconds.