Petter Solberg is back in form after the FIA World Rallycross of Spain where the Norwegian claimed victory in a Citroen DS3 Supercar. He had missed the podium in the last few rounds which were dominated by the extremely fast Peugeot supercars.
Finishing second was Swedish driver Johan Kristoffersson in a Polo RX Supercar, he opened the season by winning the first round but the few last races were not very bright for him as today. Third spot on the podium went to 22-year old Timmy Hansen who has been on the rise after winning the previous rounds in a row.
Solberg was extremely happy after his win in Barcelona as he got to affirm the lead in the championship with only three more races left. Hansen grabbed the maximum points in the intermediate classification narrowing down Solberg's lead to 35 points.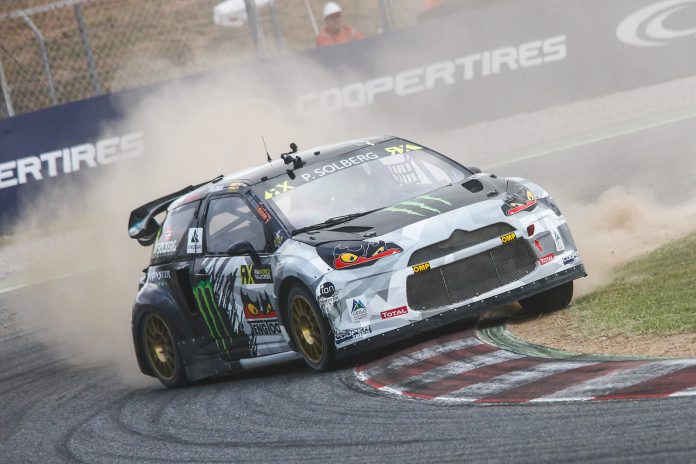 Speaking about his win, Solberg said, "The whole weekend we have been fighting so hard, my mechanics have been flat out trying lots of different set-ups on the car so it's fantastic to be able to be on the podium again. The Peugeots were fast again this weekend and we had some troubles in heat three when I got caught in dust and clipped a bale."
"I started on the second row in the semi-final and was happy to get second but I wasn't totally pleased with the car so we made some more set-up changes for the final. I had a really good start from the second row and managed to get ahead. I made a small mistake on the gravel, it was really slippery, but I saw the guys behind me also lost some time so I just kept going and managed to keep ahead. This win means even more today because my son Oliver also won in crosskart back in Sweden – I spoke to him before the final and he was teasing me telling me I had to win because he did. I think it worked!"
Hansen's teammate Davy Jeanney finished fourth for Peugeot-Hansen while Tanner Foust rounded off the top five. Team Peugeot-Hansen extended their lead in the Teams' Championship over Olsbergs MSE by 77 points.
Meanwhile, Barcelona marked the second last round of the FIA European Rallycross Championship. Ole Christian Veiby from Team Volkswagen Sweden claimed victory ahead of Alexander Hvaal's Citroen DS3 and Joni-Pekka Rajala. Andrea Dubourg won in the Super1600 category despite serving a penalty while Norwegian Thomas Bryntesson claimed flawless victory in the RX Lites Cup.
The next round will head over to Istanbul two weeks from now.