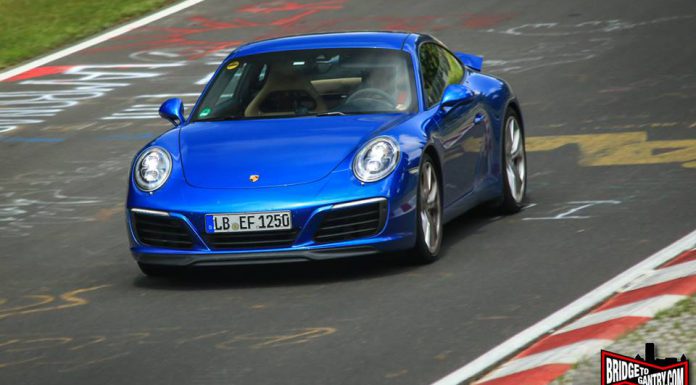 A prototype of the facelifted 2016 991.2 Porsche 911 has just been spied without camouflage at the Nurburgring. The new range is tipped to launch at the IAA Frankfurt Motor Show 2015 in a couple of months and the refreshed design is expected to be applied to all 911 variants apart from the recently launched 2016 GT3 RS.
As evidenced by the following pictures, the design changes to the facelifted 911 will be minor. With that in mind, new headlights will be featured alongside a subtly tweaked front bumper and splitter combination. Slimmer LED daytime running lights are also present. Additionally, select 911 models will receive new tailpipe setups while redesigned taillights will also be featured. All told, only the most discerned enthusiast will be able to notice the differences.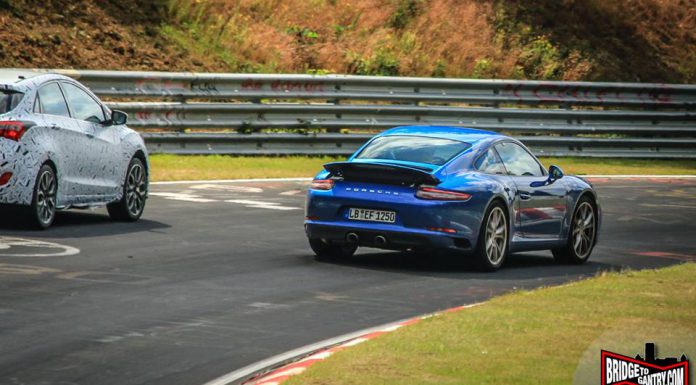 From a powertrain perspective, it is suggested that the entry-level 911 Carrera will feature a 2.7-litre turbocharged six-cylinder. While the capacity of this new engine is equal to the engine powering base Boxster and Cayman models, Porsche engineer's will reportedly work their magic to lift horsepower to the 400 hp mark. Alongside the boost in power, fuel consumption is pinned to drop from 8.2-litres to less than 8.0-litres per 100 km.
Elsewhere in the Porsche 911 range, the Carrera S will adopt a 3.4-litre turbocharged six-cylinder compared to the 3.8-litre naturally aspirated engine currently used. Despite the reduction in displacement, power will be boosted from just below 400 hp to over 400 hp. Interestingly, the Turbo, Turbo S and GT2 Porsche 911 versions will retain their current 3.8-litre turbocharged six-cylinder powertrains.
[Via Nürburgring Bridge To Gantry]