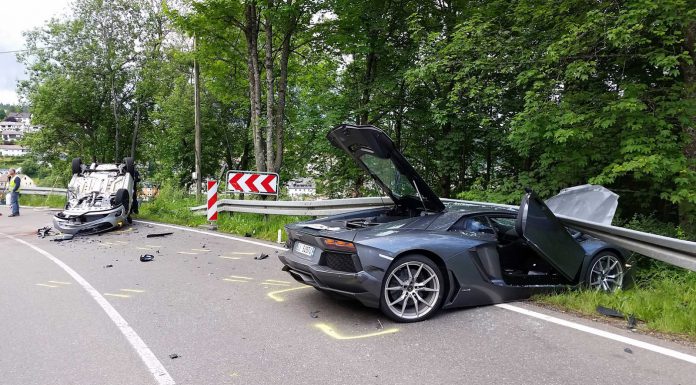 A silver Lamborghini Aventador has been badly damaged after colliding with an Opel Corsa is southwestern Germany.
Local police claim that the Aventador smashed head-on into the Opel after attempting to illegally overtake a slow-moving BMW. Despite the Aventador drivers attempt to brake and move back into his lane behind the BMW after spotting the oncoming hatch, the Italian supercar crashed into the Opel and scraped the BMW.
The impact with the Corsa was severe enough to flip it over while the Aventador slammed into and then under a guard rail on the side of the road. The damage sustained to the Opel is obviously quite severe and the Lamborghini will inevitably need a new bonnet, front bumper and quarter panels. It also appears as though the windscreen has been smashed.
Unfortunately, the driver and passenger of the Aventador as well as the 32-year-old female driver of the Opel suffered serious injuries from the crash.