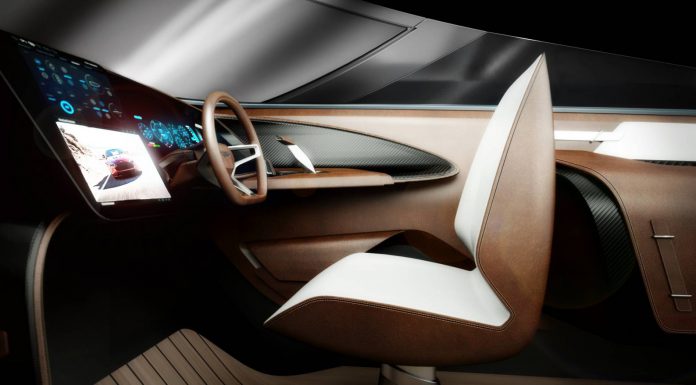 Last month, news surfaced that Aston Martin was preparing to launch a powerful speedboat. Now additional details about the boat, dubbed the AM37, have been released at the Armani Hotel in Dubai.
One of the key elements of the Aston Martin speedboat is the special sliding deck which will allow owners to completely cover the cockpit when the boat isn't in use. This special deck incorporates three large carbon fibre panels which can be easily slid back open when the boat hits the water. The deck can also be raised to provide access to the engine room, storage compartments and bimini top.
Beyond previewing this advanced sliding deck, the British automaker revealed details about the vessel's infotainment system. It will include a prominent 15-inch HD touchscreen on the dashboard while dedicated displays to monitor the engine status and navigation will also be present.
The concept of an Aston Martin speedboat is not new. Back in 2011 Luiz de Basto's European design house created the concept Voyage 55 yacht in homage to Aston Martin, inspired by the automotive brilliance of the Vantage, Rapide, DBS and Virage on to a common 'boating platform'.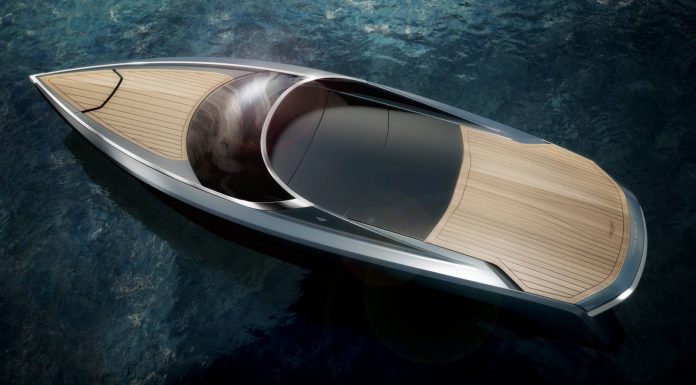 Further design elements of the AM37 will be revealed in due course. Potential owners of the new Aston Martin powerboat are being given more details on a strictly confidential one-to-one basis, further raising the sense of excitement among those who share an affinity with the Aston Martin marque and the yachting world.
But we do know that initially two versions will be built, the AM37 with twin 520 hp petrol engines and offered as a 'gran turismo' leisure powerboat "of premium class quality and refinement" good for 44 knots, and the AM37S with twin 600 hp Mercury petrol engines capable of a healthy 52 knots for use from "the ultimate sports driving to superior commuter". Also available will be 370 hp diesels.
[showhide]
"• Revolutionary new series of stunning powerboats
• Worldwide debut for innovative sliding deck
• Unique onboard technologies with interactive voice
control
Dubai, 5th June 2015: Quintessence Yachts and Aston Martin have
revealed more details of the first Aston Martin powerboat, which will
be completed in September. Following on from the official
presentation of the renderings at the Aston Martin HQ in Gaydon in
April, a number of revolutionary features of the new AM37 were
showcased in the Armani Hotel in Dubai. These included the
powerboat's unique sliding deck and a cool collection of onboard
computer technologies.
The first powerboat to carry the name and the famous wings of this
iconic brand represents the translation of the Aston Martin's DNA in
terms of 'beauty, power and soul' into a totally new maritime
concept. This impression was further enhanced in Dubai as a
number of technologically advanced yet user-friendly features were
disclosed to a specially invited audience by Quintessence Yachts
and Aston Martin Dubai, in partnership with the Berkeley Group.
One of the most striking is the sliding deck which allows owners to
completely cover the cockpit of the boat at the end of their day out
on the water, protecting it from the elements and uninvited guests.
The deck consists of three carbon panels which can be operated by
the electronic command of the AM37 key, folding under the aft deck
to uncover the cockpit. Once the cockpit is open, the aft deck slides
back to facilitate access to the dock and allow those onboard to
easily dive into the water and open the swimming ladder. The deck
can also be raised to give access to the engine room, storage
compartments and bimini top.
This unprecedented feature exudes comfort and convenience,
removing the need to place all onboard gear and cushions into
the interior at the end of each day. With a simple click of a key,
owners can close their boat and leave it ready for the next ride.
The extraordinary experience provided by the AM37 is further
enhanced by its exclusive onboard technologies. The air
conditioning, fridge and espresso machine can be started on
remote while still at home or driving to the marina. The AM37 also
features integrated navigation, control monitor and entertainment
systems, with advanced multimedia functions and interactive
voice control. The user interface of the multimedia and
entertainment system is installed in the 15-inch HD touchscreen
on the dashboard, which guests can also use. Owners will have
their own dedicated display for monitoring engine status and
navigation.
More features related to the performance and innovative
technologies of the AM37 will be disclosed at further events in the
run-up to the official presentation of the first Aston Martin
powerboat this September.
Notes to editors:
About Quintessence Yachts
Headquartered in the Netherlands, Quintessence Yachts has a
passion for innovation and exploring new concepts in the classic
yachting world. Its core mission is to offer intimate maritime
experiences related to style, performance and design.
Quintessence Yachts' Supervisory Board is chaired by Henk de
Vries, Director of Feadship."
[/showhide]