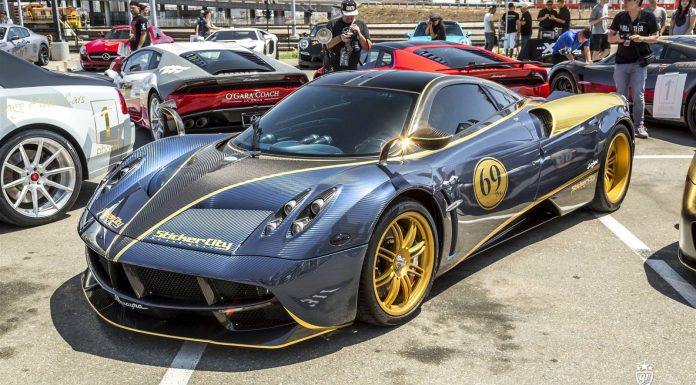 Just prior to goldRush Rally 7 kicking off, participants gathered with their vehicles for the Petco Park Car Show. The small show allowed members of the public to interact with those taking part in the exclusive rally which started yesterday in San Diego.
As with other iterations of the goldRush Rally, this year's event has attracted a seemingly never ending array of truly impressive cars. Quite possibly the highlight is Alejandro Salomon's bespoke Pagani Huayra 730S. Making it even more eye-catching are the numerous gold chrome elements applied thanks to Sticker City.
Another incredible car at goldRush Rally 7 is a Bugatti Veyron Super Sport Pur Blanc also with a number of gold elements. Other amazing vehicles are a white Bugatti EB110, red and black Bugatti Veyron Super Sport, Ferrari F12 Berlinetta, Lexus LFA and a Porsche 918 Spyder.
goldRush Rally 7 will see the cars travel two legs. The first takes in the sights of the South West, the second travels across to the South East. The first stop will be Las Vegas, followed by Sedona, Arizona and Santa Fe, New Mexico. The participants will then cross the country to Austin, Texas before hitting the road through New Orleans, Louisiana and and Jacksonville, Florida. The chequered flag will drop in Miami, Florida on June 13.