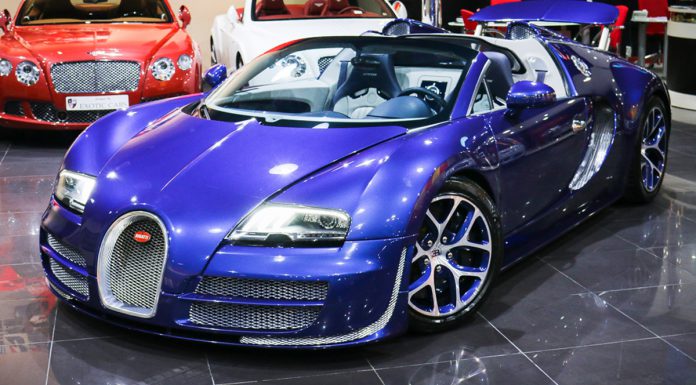 One of the world's greatest exotic car dealerships, Exotic Cars Dubai, currently has an exceptionally eye-catching Bugatti Veyron Grand Sport Vitesse up for sale. While it remains to be seen just how many Veyron Vitesse models have been produced, the following is undeniably one of the most outlandish.
It features a special gloss blue paint job which under the showroom lights has a tint of dark purple to it. Unlike many Veyrons, this one doesn't feature a two-tone paint job with the blue covering all of the exterior body panels including the rear wing and massive engine air intakes. The blue is broken up however with aluminium door handles, an aluminium fuel cap as well as a silver horseshoe grille surround.
The interior of this Veyron Vitesse unsurprisingly mimics the exterior. With that in mind, blue carbon fibre is found across the centre console and transmission tunnel while dark blue leather adorns the door panels, dashboard and steering wheel. Elsewhere, cream coloured leather can be found across the pillars and seats.
Despite being a 2013 model, this Vitesse has travelled a mere 3000 km.
As you'd expect, this Veyron Vitesse remains mechanically identical to all other models. Consequently, its quad-turbocharged 8.0-litre W16 engine delivers 1200 hp between 3000 and 5000 rpm as well as 1500 Nm of torque. As a result, 100 km/h passes in a brisk 2.6 seconds.