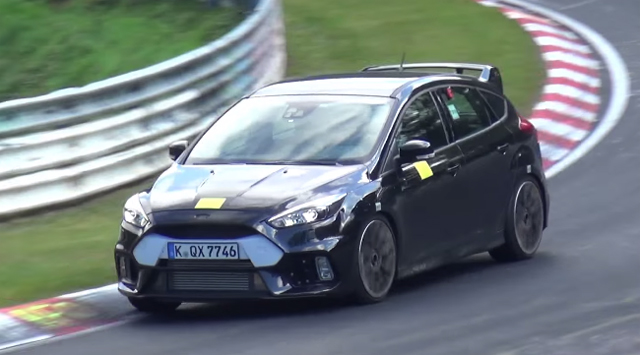 While the 2016 Ford Focus RS may have been revealed earlier in the year, development and testing of the potent hot hatch is continuing. Not too long ago, a barely disguised prototype was spied testing on the Nurburgring.
[youtube]https://www.youtube.com/watch?v=tIDez9XBKV8[/youtube]
While it remains to be confirmed, it seems likely that Ford will attempt to set an official laptime at the famous German facility. Because the latest generation Focus RS features all-wheel drive however, it won't be fighting for any records like its front-wheel drive rival, the 2015 Honda Civic Type R. Nevertheless, a lap time below the 7 minute and 50 second mark seems inevitable.
Powering the 2016 Ford Focus RS is of course a 2.3-litre turbocharged EcoBoost four-cylinder engine reportedly delivering 345 hp. Power is then sent through all four wheels with Dynamic Torque Vectoring also featuring. As a result, up to 70 per cent of the drive torque can be diverted to the rear axle and up to 100 per cent of the available torque at the rear axle can be sent to each rear wheel.