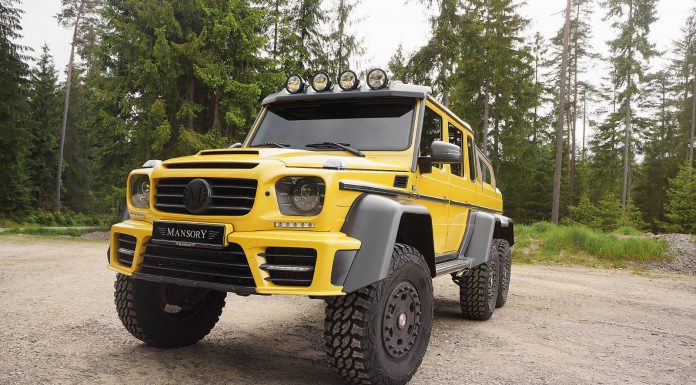 It is no secret that the Mercedes-Benz G 63 AMG 6×6 is one of the most astonishing and impressive car/trucks to have ever been designed. Its a wonder that it got the green light for production and was sold to the public. Mansory have unveiled the Mansory Gronos G 63 AMG 6×6. The changes are certainly striking taking the 6×6 to the next level.
The headlines focus on ultra-light carbon bodywork components, a more luxurious interior and a healthy increase in engine performance making the Mansory Gronos G 63 AMG 6×6 the beefiest 6×6 on the block. The most obvious changes are the aesthetic modifications. There is an all new design for the front skirts which incorporate LED daytime running lights. Carbon fibre features heavily, even the cladding on the headlights is constructed using the lightweight material.
Mansory have reworked the headlights with new and unique light elements. Another obvious addition from Mansory are the extra headlights fitted on the roof, not only adding visual presence but to illuminate the terrain ahead with extra lighting power. Furthermore, Mansory have replaced the standard Mercedes-Benz bonnet with a carbon fibre option which features extra air inlets to allow the engine additional cooling. This is just one of a number of carbon fibre elements including side trim strips, mirror housings, wheel arch covers, LED running board lights and the re-designed rear skirt.
In traditional Mansory style, the changes are not only visual, there have been a number of significant changes to the AMG V8. Vital components such as the pistons, connecting rods, big end bearings, crankshaft, crank, cylinder heads and many more parts have been replaced with racing spec parts. The performance figures have been significantly improved. In standard guise the G 63 6×6 produces 536 horsepower, the Mansory Gronos G 63 AMG 6×6 achieves an astounding 828 horsepower, while the maximum torque rises to an electronically limited 1000 Newton metres. Phenomenal changes indeed.