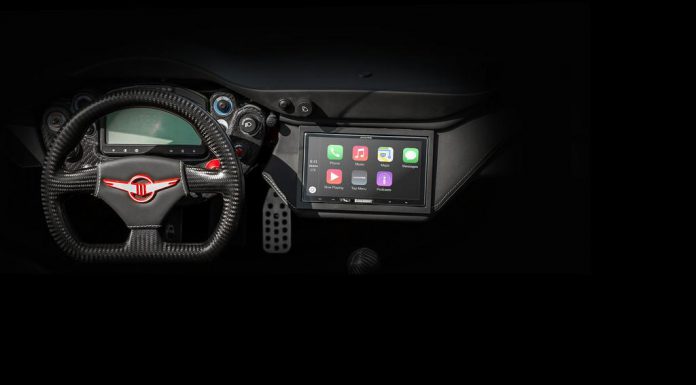 Niche automaker Rezvani Motors has just dropped a teaser image of the interior of its upcoming sports car dubbed Beast. The following picture provides us with our first look inside the car after a plethora of official renderings and pictures showing the bold exterior were previously released.
The image itself reveals that the Rezvani Beast will incorporate an advanced infotainment system support Apple CarPlay. Additionally, a lightweight carbon fibre flat-bottomed steering wheel has been fitted and adorned with the marque's eye-catching badge. Elsewhere we can see a digital gauge display as well as a host of switches and buttons around the instrument panel.
As a reminder, two different variants of the Rezvani Beast will be produced. The first is dubbed the Beast 300 and it features a 2.0-liter turbocharged four-cylinder engine delivering 315 hp and consequently, it can hit 96 km/h (60 mph) in a mere 2.9 seconds thanks to the mere kerb weight of 666 kg (perhaps this is why it's called the Beast!). The second, and more potent variant, is dubbed the Rezvani Beast 500. It features a 2.4-liter supercharged mid-mounted engine delivering 500 hp and should hit 96 km/h in 2.7 seconds.