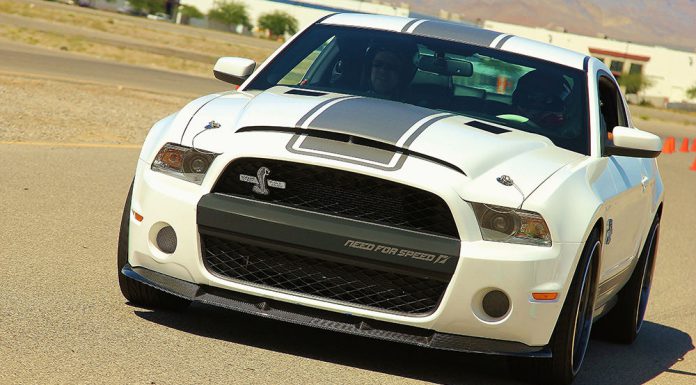 Prior to the death of Carroll Shelby in 2012, Electronic Arts teamed up with the famous manufacturer and Shelby American to produce a bespoke Ford Shelby GT500 Super Snake dubbed the Need for Speed edition. The American muscle car was created with the intention of being auctioned off to benefit the Carroll Shelby Foundation but following the death of the man himself, the auction was temporarily cancelled.
Now a few years later, the auction is proceeding on eBay with a starting bid of $125,000. Interestingly, only select pre-qualified individuals are being allowed to place bids for the custom Shelby GT500 Super Snake which has 2000 miles on the clock.
Alongside purchasing the car itself, the winning bidder will have the car delivered at a special presentation in Las Vegas including a complete photo experience, a VIP Museum tour of Shelby American as well as a gift pack. That gift pack will include a Shelby owners jacket, a coffee cup, military key chain and more.
As for the car itself, it is based around the 2011 Ford Mustang GT. The stock car's 5.0-litre naturally-aspirated V8 engine however has been swapped out in favour of a supercharged 5.4-litre unit delivering 750 hp. Other modifications include a revised six-speed manual transmission, a Ford Racing handling pack, billet aluminium short-shifter and 20-inch HRE wheels.
[via eBay]