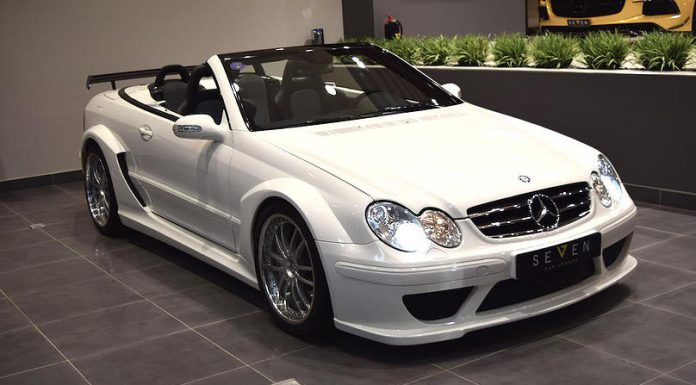 Exotic car dealership Seven Car Lounge in Riyadh, Saudi Arabia currently has an exceptionally rare Mercedes-Benz CLK DTM AMG Convertible up for sale.
The CLK DTM AMG Convertible in question is a 2007 model and has covered a mere 9400 km. It is finished in white and is rolling on a set of bright chrome wheels while the interior is adorned in black leather. Elsewhere, it includes silver brake calipers as well as a selection of carbon fibre components including the prominent rear wing, the centre console and the backs of the seats.
Rather incredibly, just 80 examples of the Mercedes-Benz CLK DTM AMG Convertible were created. It is powered by the same 5.4-litre supercharged V8 engine as the SLR. However, rather than the 620 hp the engine pumps out in SLR, it has been detuned to now deliver 582 hp in the CLK DTM AMG. However, some suggest that detuning never occurred and it produces an SLR equalling 620 hp. Either way, it can reach a top speed over 320 km/h making it one of the fastest 4 seat production convertibles ever.
On the outside, the car includes aggressive carbon reinforced plastic body panels as well as a wide body kit featuring massively flared wheel arches.