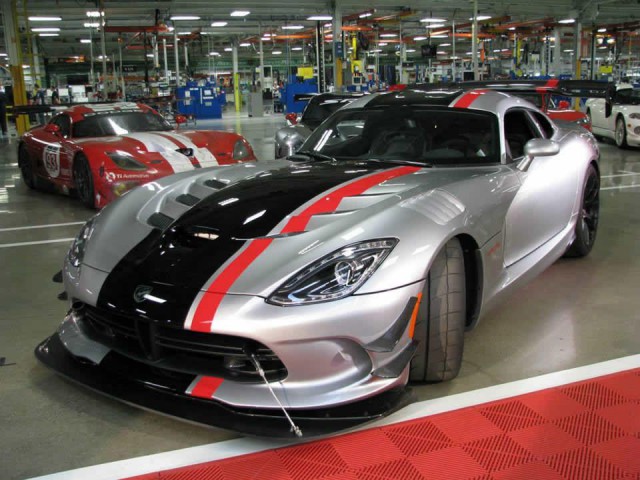 Just a few days after the 2016 Dodge Viper ACR officially debuted, live pictures of the potent American supercar have been revealed. The pictures were snapped in the production facility of the latest-generation Dodge Viper.
Beneath the skin, the 2016 Dodge Viper ACR gets an 8.4 litre V10 engine. In ACR spec it produces 645 hp and 600 lb-ft of torque which Dodge claim is the most torque of any naturally aspirated sports-car engine in the world. As you would expect, the ACR is lightweight with lightweight carpet, minimal three speaker audio and manual seats.
The Dodge Viper ACR gets significant revised aerodynamic and suspension upgrades, new carbon ceramic brakes with six-piston calipers and high-performance tires specifically designed for ACR. Performance is also dramatically improved and the Dodge Viper ACR is expected to deliver blistering lap times; remember, its predecessor set a 7:12.13 Nürburgring Nordschleife lap time.