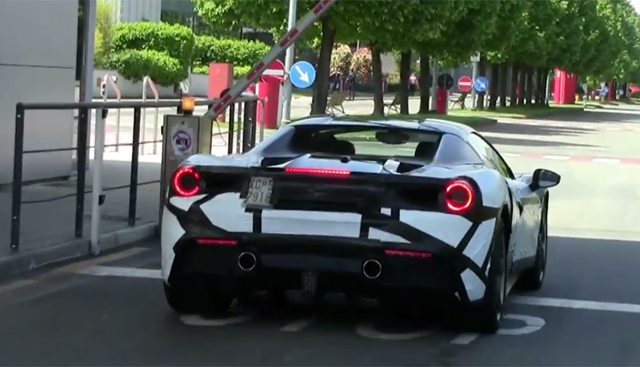 A mere two months after the Ferrari 488 GTB coupe was unveiled at the Geneva Motor Show 2015, the first spy video has emerged of the upcoming Ferrari 488 GTS Spider spied testing near the Italian marque's production facility.
Even before the 488 GTB was unveiled, it was inevitable that a drop-top would be offered and the following spy video perfectly highlights that development of the new 488 variant is also quite progressed. From a design standpoint, we can see that the Ferrari 488 GTS Spider will adopt a small vertical rear window like many mid-engined convertibles.
[youtube]https://www.youtube.com/watch?v=EdMe5o3Qgx0[/youtube]
Additionally, a new decklid has been installed and it appears as though that new decklid incorporates a small glass engine cover which isn't featured on the outgoing Ferrari 458 Spider. The upcoming 488 GTS Spider's direct rival, the McLaren 650S Spider, also features an engine cover providing a view to the engine. Additionally, it is apparent that the 488 GTS Spider will feature a folding hardtop inevitably constructed from lightweight aluminium.
Under the skin, the 488 GTS Spider will feature the same powertrain as the coupe. That powertrain is a twin-turbocharged 3.9-litre V8 which is significantly more powerful than the naturally-aspirated 4.5-litre V8 used by the outgoing Ferrari 458 Italia. As a matter of fact, the Ferrari 488 GTB delivers 660 hp at 8000 rpm as well as 560 lb-ft of torque at 3000 rpm. Incredibly, torque from this engine is also higher than the 509 lb-ft of the 6.0-litre V12 found in the Ferrari F12 Berlinetta.