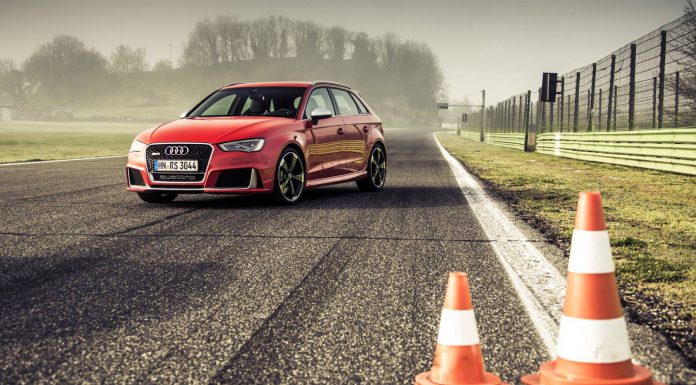 Audi is ready to spice up the compact performance segment with the 2016 Audi RS3 Sportback! We had a first opportunity to drive the new five-door Audi RS3 Sportback near Rome and at Vallelunga Circuit. Read our review to find out if it lived up to our expectations!
The 2016 Audi RS3 Sportback is based on the third generation Audi A3 that celebrated its market introduction in 2012. The new RS3 is the second generation RS3 and comes once again with the famous 2.5 liter Audi five-cylinder engine. In the new RS3 it produces 367hp and 465Nm of torque available from as low as 1,650 to 5,500 RPM. In comparison to its predecessor it produces 17hp and 15Nm of torque more.
[youtube]https://youtu.be/tMMOWDKiypU[/youtube]
But its not just a power increase that sets the new RS3 apart from its predecessor, it weighs 1,520 kilogram and that is 55 kg less than the old RS3. As a result the sprint from 0-100 km/h is now done in only 4.3 seconds. The top speed is limited to 250 km/h, optionally it can be raised to 280 km/h. New is also the availability of optional ceramic brakes for the front that significantly increase braking performance for those wishing to take the Audi RS3 Sportback on track.
The 2.5 liter five cylinder engine is paired with quattro all-wheel drive and a seven-speed S-tronic gearbox. Like the A45 AMG the RS3 comes with a double-clutch 7-speed gearbox. Gear changes are smooth as long as you leave it in automatic mode, using the paddles it requires some practice to find the sweet spot close to the red line.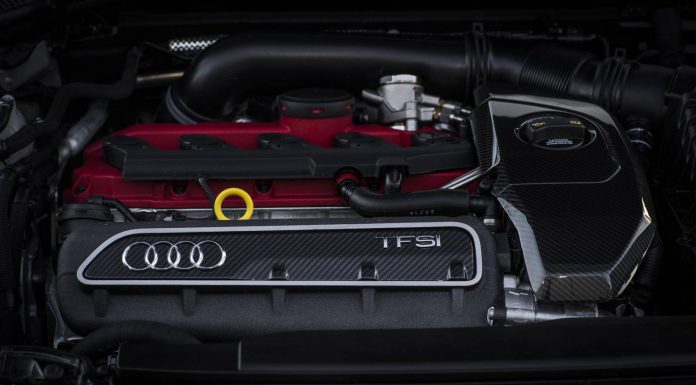 To turn the A3 into the RS3 Sportback, Quattro GmbH as the performance department of Audi is called, has done more than just add the powerful five-cylinder engine; The car is lowered and the Audi magnetic ride suspension received the RS treatment with a special setup. An Audi RS brake system is fitted – a major improvement over the S3's brake system – and optionally the front brakes can even be replaced by carbon ceramics, a first for Audi in this segment.
As standard the 2016 Audi RS3 Sportback comes with a exhaust with flaps that can be opened or closed via the Audi Dynamic Select menu. But a must for every Audi RS3 Sportback buyer is the optional RS Sport Exhaust that changes the RS3 sound from fairly tame to a screaming monster. This exhaust also comes with flaps so if you want a bit of quiet just press the button again and it will give you a break from its screaming, blobbing and banging.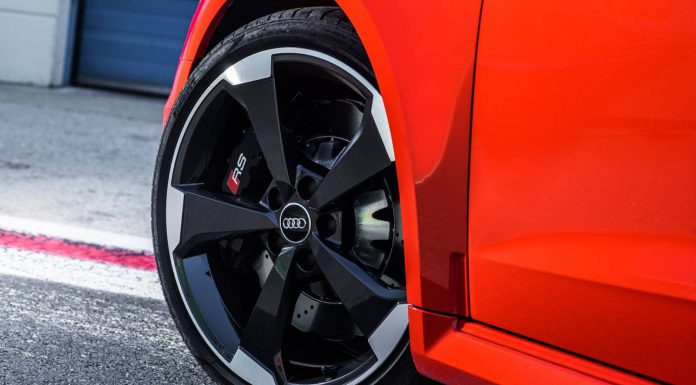 So what is it like to drive on road and track? Our test car came equipped with keyless go and was finished in the stunning new Catalunya Red color. At a press of the start button the five cylinder engine comes to live with a loud scream through the RS Sport Exhaust. The natural volume the engine and exhaust produce is well above what we expected and is one of the main head turners on the 2016 Audi RS3 Sportback.
As soon as you put the car in motion it is a familiar combination of sporty suspension and Quattro drive that gives confidence and predictability about the ride. We might argue that Quattro takes a bit of driving fun away compared to the rear-wheel drive BMW 1-Series M or more rear focussed 4matic A45 AMG but Audi's engineers put some serious effort in to reduce understeer and actually give the RS3 some rear bias.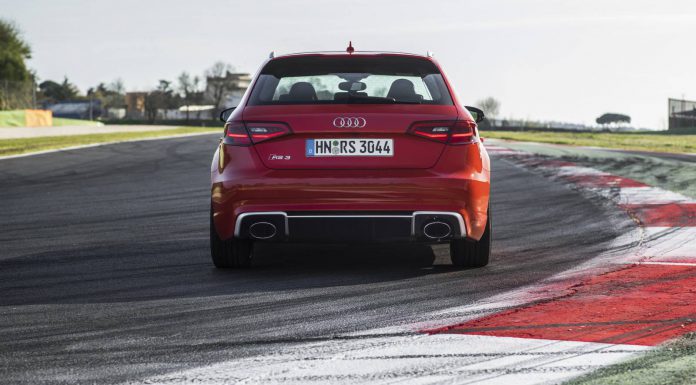 This is best illustrated on Vallelunga circuit where several RS3 Sportbacks equipped with ceramic brakes were waiting for us to push around the track. Following a slightly altered track course there are plenty of corners and hairpins to enjoy. It is certainly capable of setting a quick and entertaining lap, showing far less prone to understeer than we expected. The suspension setup is fairly hard and cannot be changed what has benefits on track but reduces comfort on the poorly maintained Italian roads.
Stepping out of the RS3 and watching others take on the track we first realize how loud the RS sports exhaust really is. Unlike its key rivals that all come with four cylinder engines, the RS3 has an engine that produces a beautiful natural sound that is enhanced or should I say emphasized rather nicely by the RS exhaust. The RS3's exhaust loves to pop and bang, especially in tunnels when you release throttle or downshift.
But its not just about performance and sound, there is also the looks and interior. The exterior has received a proper RS treatment and the RS3 Sportback looks like a mini RS4, which is certainly not a bad thing. With a wide, aggressive front and sporty rear with two large exhaust tailpipes and a large diffusor it really stands apart from the A3 and S3.
Inside you have a choice of sport seats and trim lines. Depending on your choice various details are either finished in carbon or red. The interior seems to have taken some inspiration from the A45 AMG and definitely looks sportier than the interior design of its predecessor. The sport seats are comfortable and overall there is enough support and space also for tall people.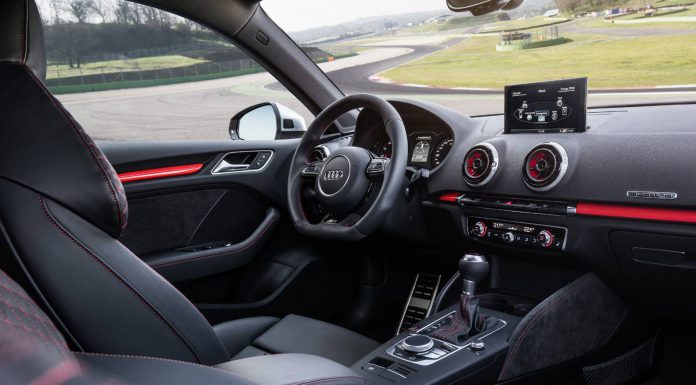 As standard the Audi RS3 Sportback comes with Audi drive select, MMI Radio and the driver information system including the RS menu (which features a tire pressure indicator, lap timer and oil temperature display). Optionally you can order the MMI Navigation system with live traffic and other connectivity options.
So how does it compare to its competitors? The Mercedes-Benz A45 AMG is the most apparent rival in this segment and although we loved the A45 AMG's looks the new RS4-like look of the RS3 makes it a very hard choice. The Audi RS3 holds one major card over its competitors and that is the fabulous five cylinder engine with the incredible sounding RS sport exhaust. Overall this means the new RS3 has become our favorite in this segment.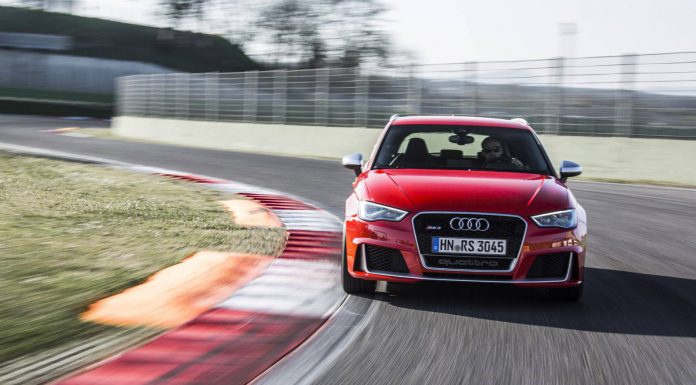 The RS3 is the entry-level RS-model in the Audi line-up and sadly for our US readers and fans it will not be sold in the United States. The US focussed RS3 Sedan is not confirmed yet, but we tell you as soon as it is. Most RS3 Sportbacks are sold in Germany, United Kingdom and other European countries. Outside Europe particular Japan and Australia are fans of the RS3. Customer deliveries start this quarter in Germany followed by other European countries and Asia.