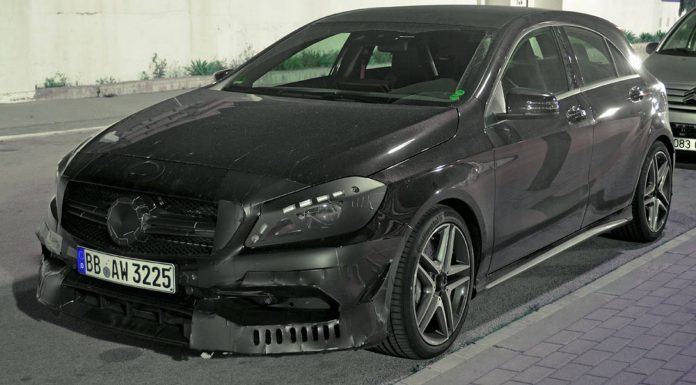 The existing Mercedes-Benz A-Class range has only been on the market for about two years but the German marque is already preparing a facelifted model. With that in mind, the very first facelifted Mercedes-Benz A45 AMG spy shots have emerged before the updated range is unveiled at September's IAA Frankfurt Motor Show 2015.
This particular A-Class prototype is evidently the range-topping A45 AMG model as shown by the aggressive bumpers and the quad exhaust pipes. These spy shots show that at the front, this test mule is sporting revised headlights but due to black camouflage, the changes are impossible to pick. Elsewhere, a new bumper has evidently been installed with it including a prominent splitter.
At the rear, the presence of light camouflage across the taillights indicates that some subtle modifications will also be made to them. As with most facelifted cars, we can expect a different rear bumper to also make its way onto the production-spec A-Class facelift.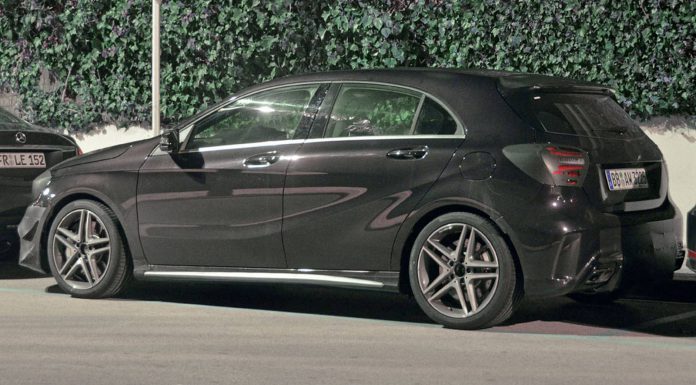 Beyond the visual modifications, it has previously been confirmed that the facelifted Mercedes-Benz A45 AMG will be more powerful than the current car. As it stands, the 2.0-litre turbocharged four-cylinder engine of the A45 AMG delivers a total of 355 hp. While such a figure is extremely impressive for a four-cylinder, it has been bested by the new Audi RS3 and its 2.5-litre, five-cylinder turbo engine delivering 362 hp.
To answer the Audi RS3, Mercedes-Benz is pinned to squeeze an extra 20 hp out of the A45 AMG lifting the total figure to 375 hp. As a result, the sprint to 100 km/h should drop by about 0.1 of a second down to 4.5 seconds. The car's top speed is likely to remain at 250 km/h however.