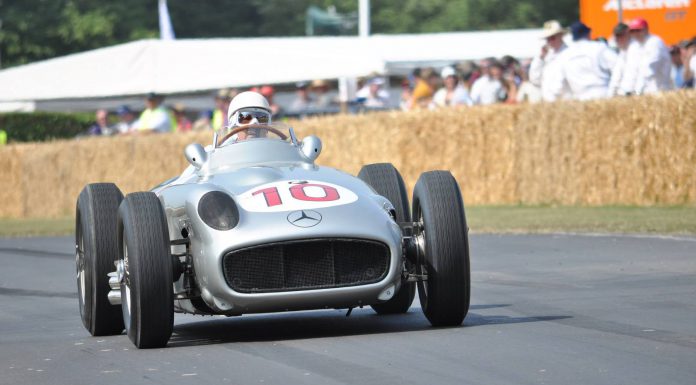 Five Formula One teams including Mercedes-AMG, MotoGP superstar Valentino Rossi, and a salute to Sir Stirling Moss's epic Mille Miglia victory 60 years ago will be among ther highlights of this year's 23rd Goodwood Festival of Speed.
The crowd-puller on June 25-28 on the theme Flat-Out and Fearless: Racing on the Edge, pays tribute to drivers and constructors throughout history that threw caution to the wind in pursuit of victory.
The Gerry Judah-designed Central Feature, an annual tradition at the Festival of Speed, will honour Mazda's contribution to motoring and motor sport in the year in which the all-new version of the world's best-selling sportscar, the MX-5, will be launched. Bentley and Ford will also present UK debuts, with the Festival preceded by the Moving Motor Show on the Thursday.
For the first time the highlights were revealed online, rather than at a press conference, but as ever a thrilling line-up is promised with superstars and legends on two wheels and four, and some of the world's finest machines.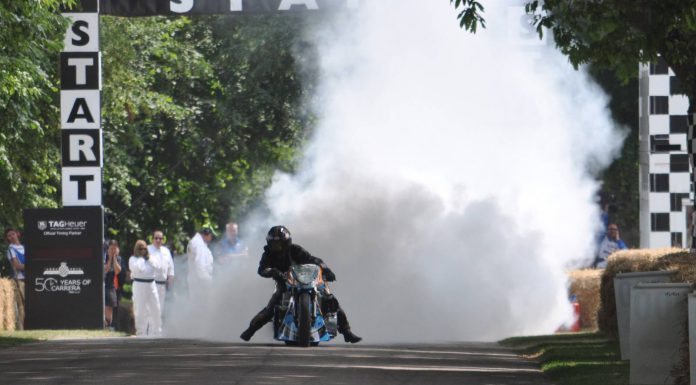 The five current Formula 1 teams – including the return of World Champion constructor Mercedes – are to appear in a revamped F1 Paddock presented by Sky Sports F1. The other teams aren't named but World Champions Lewis Hamilton and Jenson Button have long been regular favourites.
On two wheels, MotoGP superstar Valentino Rossi makes his Goodwood debut on a Yamaha GP race bike to celebrate 60 years of Yamaha Motor Company, joined on track by legends Casey Stoner, Freddie Spencer and Kenny Roberts.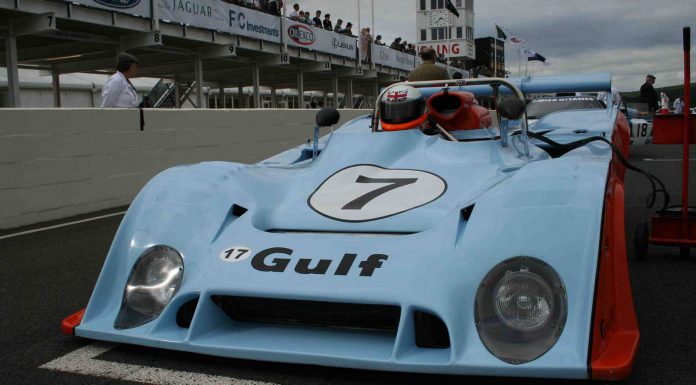 Talking of legends, seven Mercedes-Benz 300 SLRs will appear to mark the 1955 Mille Miglia victory 60th anniversary of event patron Sir Stirling Moss, pictured top. And local Le Mans legend Derek Bell's incredible career will be marked with a special class of at least 12 cars, including his first Le Mans winner – a Mirage GR8, in which he is pictured above.
American thunder always goes down well at Goodwood and this year will see the largest ever US representation including NASCAR's Richard 'The King' Petty and a Goodwood debut for drag racing's godfather Don Garlits.
For European monsters, an incredible 28-litre Fiat S76 is to have its first public run for 101 years at Goodwood as part of new category for Edwardian leviathans. At the other end of the scale the Michelin Supercar Run and Paddock are to feature sensational new supercars and the largest ever paddock.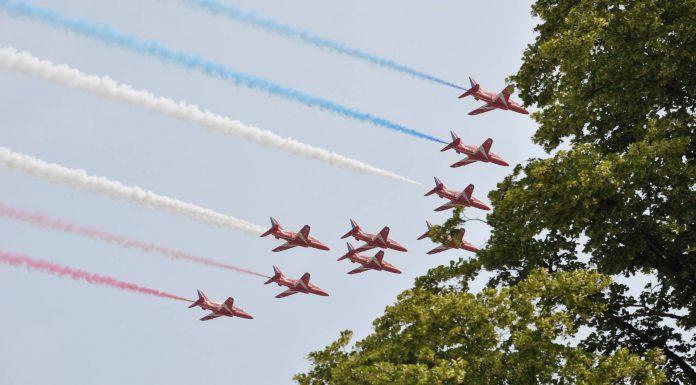 On a genteel note the Cartier 'style-et-luxe' categories include 80th birthday celebration of Figoni et Falaschi cars and 60th anniversary of the Citroen DS, while the Bonhams sale is to feature a sought-after ex-works 1935 Aston Martin Ulster. And the Festival of Speed would not be the same without its air displays, always including the Red Arrows, seen above.
Follow GTspirit for the latest on the Goodwood Festival of Speed 2015.