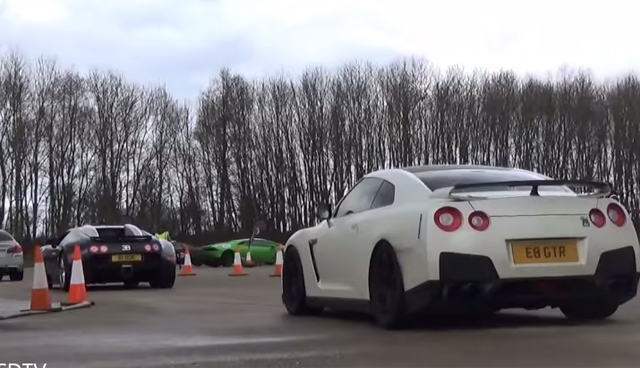 Despite being a decade old, the original Bugatti Veyron 16.4 is still one of the fastest accelerating cars on the planet. As a matter of fact, few if any stock performance cars (other than more powerful Veyron variants) can get off the line as briskly as the Veyron. How does the mighty Bugatti Veyron perform against a Nissan GT-R tuned to deliver 1000 hp however?
[youtube]https://www.youtube.com/watch?v=ZVdmKvzDPv8[/youtube]
Well at the most recent Vmax event held at Bruntingthorpe in the U.K, those two cars were pitted against each other and unsurprisingly, the almost identical power figures resulted in an exceptionally close race!
As the following video shows, the GT-R actually sprints away from the Veyron in the initial stages of the drag race and manages to stay ahead for quite a while. The superior top speed of the Veyron soon comes into play however as it sprints through to 350 km/h while the GT-R is left trailing behind.