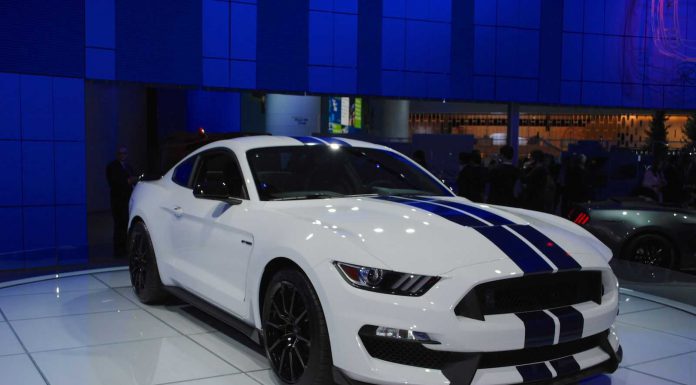 While the 2016 Ford Mustang Shelby GT350 debuted at the Los Angeles Auto Show in November last year, the American marque is continuing to test camouflaged prototypes across the United States. Case in point, the following mule was recently filmed on the streets of the U.S.
Because the Mustang GT350 in question features some camouflage, it obviously doesn't give us an idea of how the American muscle car will look like on the move in production-spec. Nevertheless, the Ford engineer behind the wheel did give the car a burst of acceleration when pulling away from the traffic lights thus giving us a good chance to hear the brand new 5.2-litre V8 purring!
[youtube]https://www.youtube.com/watch?v=2zFnQYVN5zk[/youtube]
That new high-revving V8 promises to deliver over 500 hp and 400 lb-ft of torque but final figures have yet to be released. This new engine uses a flat-plane crankshaft as rumoured to help the engine breathe easier. When it is all said and done, this new 5.2-litre V8 is the most powerful naturally aspirated Ford production car engine ever revealed.
As you would expect, power is then sent to the rear wheels through a six-speed manual transmission. A tweaked Torsen limited-slip differential is also utilised. As of yet, Ford has yet to release performance details about the new Mustang Shelby GT350 but these could come at the L.A. Auto Show itself or at a later date.
To help bring the mighty new GT350 to a stop, the car utilises six-piston Brake calipers at the front clamping down on 394 mm two-piece cross-drilled iron brake discs. At the rear, four-piston Brembos are found alongside 380 mm discs. Another important aspect of the 2015 Ford Mustang Shelby GT350 is its MagneRide dampers. The car also includes an injection-moulded carbon fibre composite grille opening and shock tower brace to stiffen up the chassis to provide extra rigidity and handling performance.