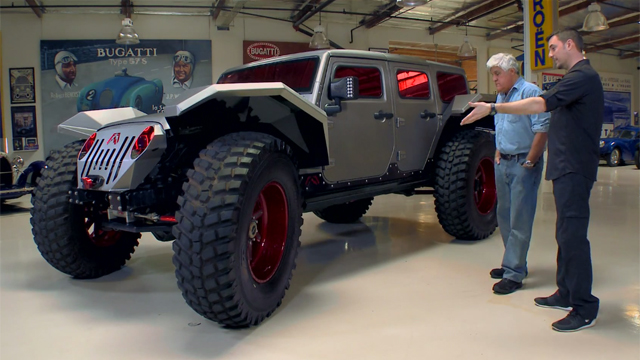 Alongside driving some of the fastest and most technologically advanced cars ever created, Jay Leno is also known for testing some completely bespoke creations both on and off the road. The latest car to enter into Jay Leno's Garage was the Fab Fours Legend originally unveiled at last year's SEMA show.
[youtube]https://www.youtube.com/watch?v=zqSh0_yGiF4[/youtube]
The Fab Fours Legend is based around the Jeep Wrangler but it features an entirely unique design. As a matter of fact, four inches has been removed from the roof line resulting in an exceptionally streamlined look. Arguably the most eye-catching element of the Legend are the incredibly large 50-inch tractor wheels.
Powering the car is the standard six-cylinder engine of the Wrangler but modifications have been made to the transmission. The muffler has also been removed adding an extra roar to this truly insane out-of-this-world off-road monster!