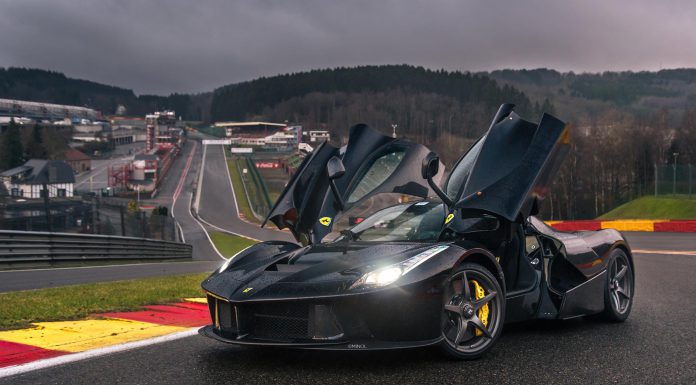 Ever since being launched at the Geneva Motor Show 2013, the Ferrari LaFerrari has been viewed in the highest possible regard and it is little wonder why. After all, the Italian hypercar is not only the most powerful of the three hybrid leading performance hybrids but it is also the lightest. Consequently, it is an absolute animal on a racetrack and a black example recently hit Spa-Francorchamps with Patrice Minol snapping the stunning image featured above.
[youtube]https://www.youtube.com/watch?v=44AZzDFnv1s&t=23[/youtube]
It clearly shows the black LaFerrari towards the top of Eau Rouge, one of the most famous and dangerous corners in motorsports. Overlooking the forest as well as the pit area, Eau Rouge also acts as a great vantage point for the track as a whole and adding a LaFerrari into the fold only just adds to the beauty!
On the spec sheet, this is how the LaFerrari reads; it features a 6.3-litre V12 engine that has an output of 789 hp at 9000 rpm and 700 Nm of torque at 7000 rpm. That internal combustion engine is joined with an electric motor providing an additional 161 hp and 270 Nm of torque.
Bonus Photo: Ferrari 599 GTO!