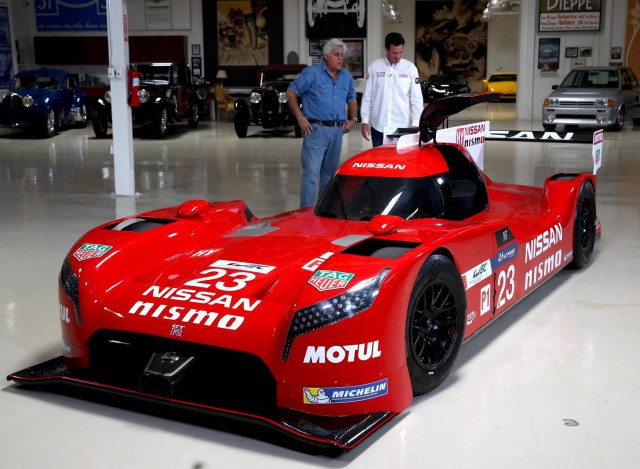 Ahead of the Nissan GT-R LM Nismo's upcoming 24 Hours of Le Mans debut, Jay Leno recently took an in-depth look at the initial show car with the project's lead engineer. The research and development that has gone into creating the GT-R LM Nismo is truly mind-boggling so if you're still trying to wrap your head around it, this is the video to watch!
[youtube]http://www.youtube.com/watch?v=fw_2N3tGMEg[/youtube]
For starters, the GT-R LM Nismo utilises a twin-turbocharged petrol 3.0-litre, 60 degree V6 engine featuring direct injection. This engine is then mated to a 5-speed pneumatic paddle shift transmission incorporating epicyclic final drive reduction alongside an hydraulic limited slip differential. An advanced Tilton 3-plate carbon clutch is also used. Furthermore, the Nissan GT-R LM Nismo includes an advanced energy recovery system housed both ahead and beneath the driver's feet. The V6 delivers somewhere in the region of 500 hp and the recovery system is tipped to deliver between 500 and 750 hp.
All up, the GT-R LM Nismo tips the scales at 870 kg and includes a 68 litre FT3 fuel tank complete with electric lift and feed pumps. Ohlins multi-adjustable front dampers and Penske multi-adjustable rear dampers have also been installed alongside a completely hydraulic rear anti-roll bar system and 6-piston brake calipers at the front and 4-piston calipers at the rear. As with the very best racing cars, the brake bias can be adjusted by the driver.
Beyond these elements, the Nissan GT-R LM Nismo is an exercise in advanced aerodynamics. Whereas other Le Mans prototypes have been designed so air passes over, around and beneath the car, the GT-R LM Nismo has actually been designed for the air to flow through the car in what is known as a through-flow system. As such, air channels start at the front of the car, work their way around the cabin and then exit at the rear end and diffuser.