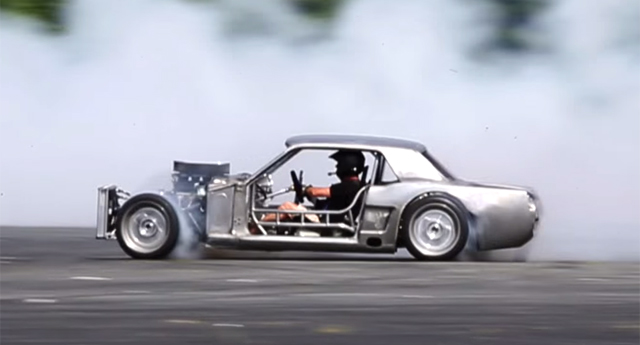 While Gymkhana Seven featured some truly incredible driving stunts on the part of Ken Block, it was the Ford Mustang based Hoonicorn RTR which really stole the show. A completely bespoke creation from AS Motorsports in North Carolina, the car features an extreme powertrain and equally extreme bodywork. However, it didn't always look like it did in Gymkhana Seven.
[youtube]https://www.youtube.com/watch?v=oQmLbcsPjh4&t=67[/youtube]
As a matter of fact, during Ken Block's first and only test before filming of Gymkhana Seven commenced, he got behind the wheel of the Hoonicorn RTR when it featured absolutely no bodywork and was essentially just a shell with an engine, gearbox, pedals, steering wheel and a driver's seat. The resulting video is definitely worth a watch!
In case you didn't know, the car features a Roush Yates 410 cubic inch 6.7-litre Ford V8 engine and pumps out 845 hp. This potent engine is then mated to a six-speed manual transmission with power being sent through all four wheels. Elsewhere, it features completely inboard pushrod suspension with double wishbones at all four corners while the engine makes use of independent throttle bodies and a Motec management system.