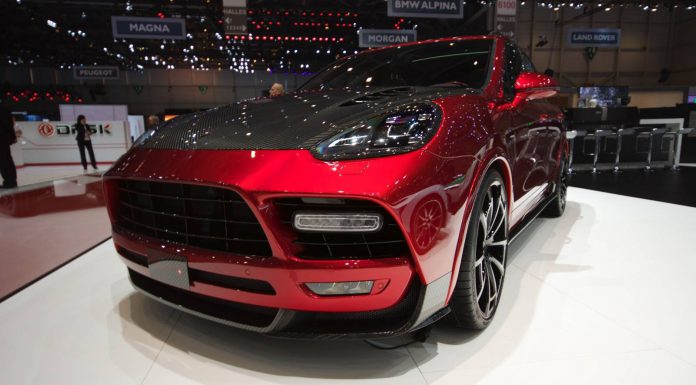 The covers have just been taken off the exceptionally bold Mansory Porsche Cayenne Turbo at the Geneva Motor Show 2015. In characteristic Mansory style, the firm's Cayenne Turbo is significantly more head-turning than the standard car and features a seemingly never-ending array of visual and aerodynamic modifications. As a result, we just had to check it out in person!
The particular Mansory Porsche Cayenne Turbo on display features the full array of Mansory modifications but buyers can choose individual components to have installed on their Cayennes. As for this display model, it features a heavily upgraded front fascia incorporating a carbon fibre bonnet, carbon lower splitter and bumper, new LED daytime running lights as well as a blacked out front grille.
Elsewhere, the car features subtle yet still noticeable wheel arch extensions with modifications also made to the side skirts. Additionally, a set of gloss black wheels have been installed which incorporate a red outer rim. The changes at the rear are as bold as any other Mansory creation with a carbon fibre trunk spoiler, colour-matched roof spoiler, a new bumper and diffuser package as well as large rectangular exhaust pipes. The diffuser is also finished in carbon fibre like a selection of other components.
Inside, brown leather now adorns the seats, dashboard, door panels and steering wheel alongside cream coloured piping. Black floor mats are then featured alongside a number of red carbon fibre accents and wooden components.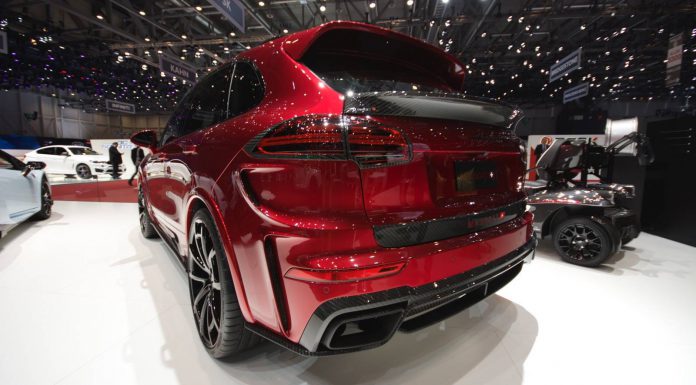 On a mechanical front, Mansory offers a kit for the Cayenne Turbo's V8 engine which sees power boosted from 562 hp and 590 lb-ft of torque through to 790 hp and 774 lb-ft. As a result, the 0-100 km/h sprint is achieved in just 3.9 seconds while the top speed sits at 300 km/h.

For all the latest from the Geneva Motor Show 2015, take a look at our dedicated news feed or follow us on Facebook, Twitter, Instagram or Google+.