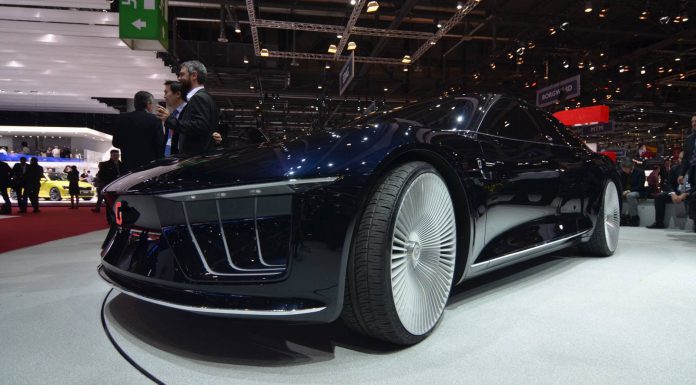 The covers have been taken off the Italdesign Giugiaro GEA Concept at the Geneva Motor Show 2015. The car reportedly previews an autonomous luxury car from the Volkswagen Group which of course owns the design house. With this in mind, we checked it out live!
Powering the the Italdesign Giugiaro GEA Concept are no less than four electric motors with two at the front and two at the rear. All up, they deliver 764 hp. While no acceleration times have been released, it has been confirmed that the GEA Concept's top speed will be limited to 250 km/h.
Making up the GEA Concept are a selection of aluminium, carbon fibre and magnesium elements. When it is all said and done, Italdesign Giugiaro's latest concept car tips the scales at just over 2000 kg. That weight figure includes the eye-catching, 60-spoke wheels which measure 26-inch at all four corners and a milled from a solid block of aluminium!
All told, the the Italdesign Giugiaro GEA Concept measures 5370 mm long which means it is about 235 mm longer than the Audi A8. With the added length, a selection of luxurious elements are found throughout the interior of the GEA Concept with an integrated smartphone controlling many of the functions and offering three different interior modes of Business, Wellness and Dream.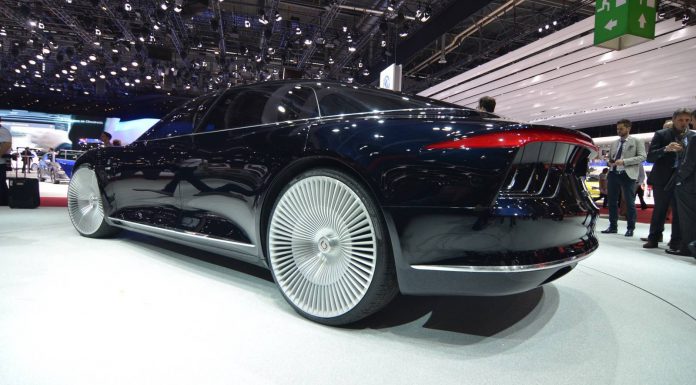 The Business mode of the Italdesign Giugiaro GEA Concept creates a travelling office with two 19-inch transparent LED screens emerging from the roof. Additionally, the front passenger seat can spin around 180 degrees to face the rear passengers. When Wellness mode is selected, the GEA Concept turns into a mini gym with aluminium handles in the seats at the back available for exercises for the upper body. Additionally, boards come out of the floor for a selection of different leg exercises. Finally Dream mode turns on blue LED lighting throughout the cabin and one of the rear seats can then be fully reclined.

For all the latest from the Geneva Motor Show 2015, take a look at our dedicated news feed or follow us on Facebook, Twitter, Instagram or Google+.