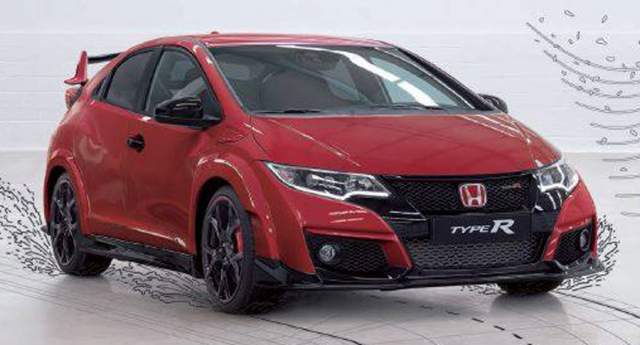 On the back of images of the production-spec 2015 Honda Civic Type R leaking online, the very first official image of the new hot hatch has emerged before its Geneva Motor Show 2015 debut. The image comes from a Polish Honda advertisement which shows the new Civic Type R posing alongside the standard Civic hatchback and Tourer.
As with the previously leaked images, this one perfectly highlights the visual and aerodynamic differences between the production-spec Civic Type R and the original 2015 Honda Civic Type R concepts. For starters, new headlights have been installed while the design of the front splitter has also been reigned in. Additionally, new fog lights have been installed rather than the LED units of the concept.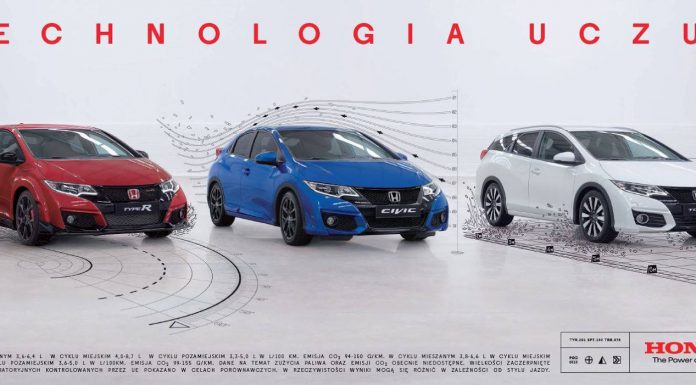 The images which emerged yesterday also revealed that the arches of the road-going Civic Type R won't be as pronounced as the concept. Additionally, the rather futuristic rear wing and taillight design somewhat reminiscent of the McLaren P1 has been ditched. In its place are taillights very similar to the standard Honda Civic while the wing then appears to have been mounted on top. Finally, know that the 2015 Honda Civic Type R includes a menacing rear diffuser and quad exhaust pipes.
Honda is still refusing to release official performance details for the new turbocharged 2.0-litre i-VTEC petrol engine powering the next-gen Civic Type R other than confirming it will delivering over 276 hp. Torque will reportedly sit around the 300 lb-ft mark with power conceivably reaching 320 hp. Whatever the case may be, we know it will rev to at least 7000 rpm.
In typically Honda fashion, peak end power will be provided by the i-VTEC system with the turbocharger providing extra power lower in the rev-range. Thankfully, Honda has decided to fit the new Civic Type R with a traditional six-speed manual transmission and the car will inevitably reach 100 km/h in the mid-5 second range.