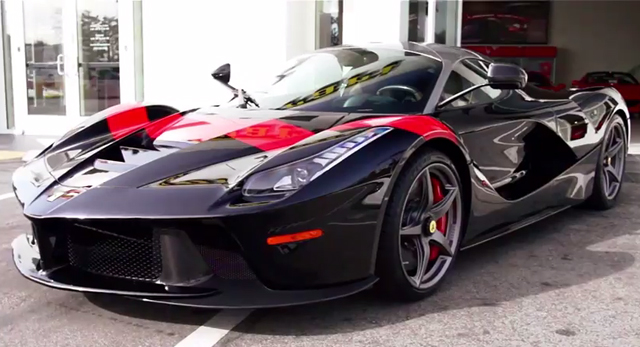 A unique Ferrari LaFerrari jas just been delivered in Southern California and this particular LaFerrari is certainly one of the most intriguing we've seen to date.
[youtube]https://www.youtube.com/watch?v=PutEl3RM-a8#t=61[/youtube]
Exterior wise, it is painted gloss black but has been outfitted with a prominent red stripe stretching across the bonnet. Additionally, it features red brake calipers and silver five-spoke wheels alongside yellow centre caps and Ferrari shields on the fenders. The interior is also appropriately bespoke with it including brown leather across the seats, dashboard, steering wheel and door handles.
As you surly know by now, the LaFerrari gets a 6.3 litre V12 which is connected to an electric motor similar to the system on the McLaren P1. The Ferrari F150 V12 has an output of 789 hp at 9000 rpm and 700 Nm at 7000 rpm while its electric motor has a maximum output of 161 hp and 270 Nm of torque. That delivers a total combined power output of 950 hp.