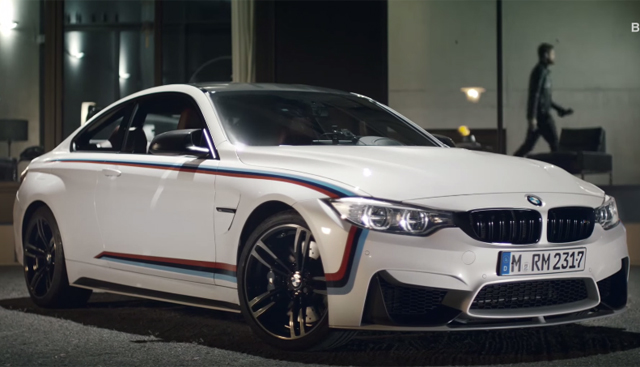 BMW has just released a thrilling clip of the brand new BMW M4 outfitted with a selection of M Performance Parts on the move. Throughout the clip, the German sports car shows just what it's made of in true BMW M fashion.
[youtube]https://www.youtube.com/watch?v=2vq_ecTUGkU#t=25[/youtube]
At the front, M Performance parts on offer for the BMW M3 and M4 include carbon fibre front air intake surrounds, a subtle yet aggressive polyurethane front splitter, a carbon fibre diffuser at the rear as well as a small bootlid lip spoiler also made from lightweight carbon fibre. Final exterior visual modifications include polyurethane side skirt extensions and the option of tri-colour decals for the BMW M4, M4 and M4 Convertible.
Inside, the M Performance parts catalogue includes an entirely new steering wheel complete with a small race display at the top. It displays everything from gear shift indicators and acceleration figures. When the three cars are switched into Sport mode, a stopwatch function becomes available while Race mode brings with it lap times.
Under the hood, both the new M3 sedan and M4 coupe are of course fitted with a twin-turbocharged six-cylinder engine revving to 7600 rpm and producing an impressive 431 hp between 5390 rpm and 7000 rpm and 406 lb-ft of torque from a low 1800 rpm to 5390 rpm. That torque figure is available across a broad rev range and is an improvement over the outgoing BMW E92 M3 of 40 per cent.