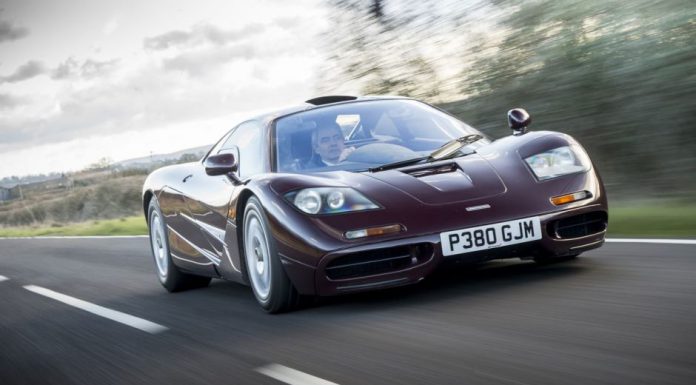 More than 8.3 million pounds – 12.5 million dollars or 11.3 million euros – that's the asking price for the unique one-owner McLaren F1 supercar that actor Rowan Atkinson, renowned for comedy star roles in UK TV classics Mr Bean and Blackadder, is asking for the 388 km/h machine he has owned from new.
Precious as it is, originally priced at £540,000 (722,000 euros) as one of just 63 road cars built in the early 1990s, Atkinson says he has enjoyed being able to drive it with his family as "a daily", to the shops and on school runs, although he has also topped 320 km/h in it on the racetrack. Powered by a naturally aspirated 6.1-litre BMW V12, it can rocket 0-100 km/h in 3.2 seconds and blast all the way to 388 km/h.
An accomplished and respected historic race driver, Atkinson has regularly featured at the Goodwood Revival, usually with Jaguars in the St Mary's Trophy saloon races, but where he also once recreated a classic scene from his Mr Bean TV series, 'driving' a Mini from an armchair on its roof.
But the burgundy-colour McLaren is a different beast. While early in its ownership he strapped his children into a pair of child seats in the rear of the McLaren's special three-seat layout for a long drive on holiday, his off-screen life with the McLaren over the best part of two decades has had its dramas too, with two major crashes.
In 2011, he hit a slippery patch of road and crashed into a tree, the engine ending up 20 metres away. He escaped with a shoulder injury that put him out of that year's Goodwood Revival, a sell-out crowd-puller where he's been used to rubbing shoulders with the likes of Jochen Mass and Sir Stirling Moss, as pictured below, but said the car's carbon fibre chassis probably saved his life.
Such was the damage that technicians at McLaren put the repair estimate at more than £900,000 – but such was the car's appreciating value that the insurers approved the factory rebuild making it as new.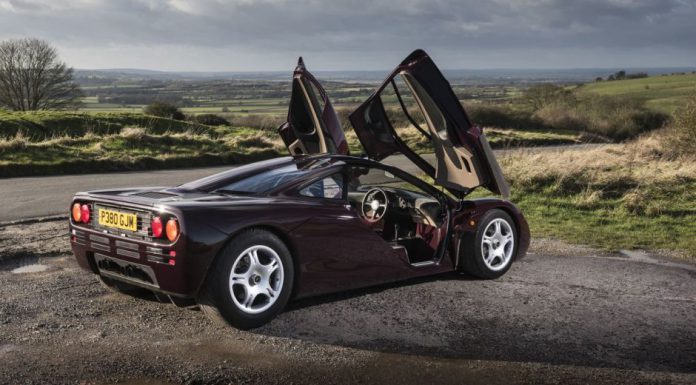 Atkinson, a devotee of McLaren's ace former design guru Gordon Murray, told Goodwood Road Racing Club: "'I bought it for the quality of the thinking behind it. Now it has become a thing of value, it is time for someone else to enjoy it." He added: "Look at a modern supercar of comparable performance and it will be vast, heavy and offer little or no space for your luggage.
"By comparison the F1 is tiny yet will seat three, store enough for you all to go on holiday and still find space for a proper, normally aspirated 6.1-litre V12 engine. And it weighs the same as a shopping car. Nothing has ever been designed before or since with such imagination and clarity of thought."
The man tasked with finding a buyer is David Clark, owner of Taylor and Crawley historic and performance car specialists in west London, who said: "If I had the choice of buying a 1,000 mile McLaren F1 that has been hidden away or Rowan's with 41,000 miles I would take Rowan's."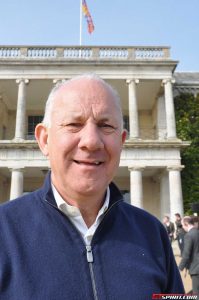 And he should know – Clark, pictured right, is not only a celebrated historic car dealer and racer, with a lifelong involvement in the historic car business and F1 racing, he was commercial director of McLaren from 1994-1998 when the F1 was being developed and sold.
He has raced some of the world's greatest cars including the Aston Martin DBR1, DP212 and DP214; and the Ferrari 250 GTO and 250 SWB.
But his favourite car is the McLaren F1 GTR he has owned since 1997, the machine in Harrods colours which led Le Mans for 13 hours and eventually came third overall, first in class, in the hands of Derek and Justin Bell and Andy Wallace.
Clark said: "Companies have spent a lot of time and money trying to better the F1 but I don't think it has an equal in modern times. The F1 is unquestionably the modern day Ferrari 250 GTO. If I had the choice of buying a 1,000-mile McLaren F1 that has been hidden away or Rowan's with 41,000 miles I would take Rowan's."
Clark added: "I am expecting a lot of interest in the F1. Anyone who wants a wonderful car with a great story, which includes the accidents, then this F1 is a fantastic thing.
"Apart from the accidents, I think Rowan has enjoyed every minute with the F1 and I think he will have withdrawal when it is gone."