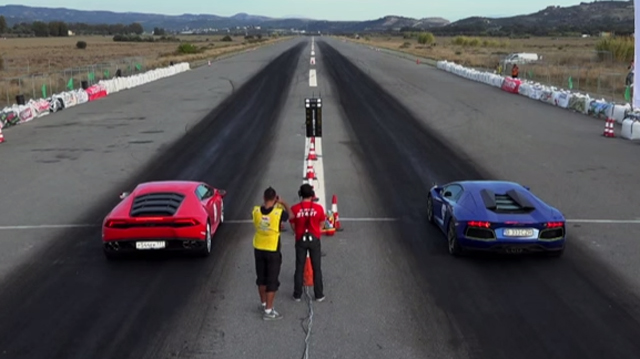 Thanks to its seven-speed dual-clutch transmission, tests have shown that the new Lamborghini Huracan can hit 100 km/h in just 100 km/h in the absolute perfect conditions which makes it faster than the significantly more powerful Lamborghini Aventador. Well the following video puts the Italian marque's staple two sports cars together in one epic drag race and as expected, the results are very close.
[youtube]https://www.youtube.com/watch?v=S26wYfs-UXo[/youtube]
At the end of the 1000 metre drag race, the Lamborghini Aventador delivering a total of 730 hp thanks to its Capristo exhaust system, sets a 19.356 second time at a top speed of 277.99 km/h. By comparison, the Huracan laid down an equally impressive 19.767 second sprint at a 273.97 km/h top speed. When you factor in the 0.2 second slower reaction time the Huracan driver had, the end result would have been even closer!