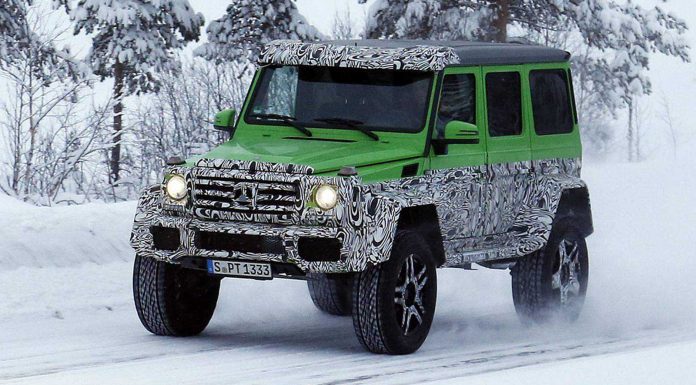 The Mercedes-Benz G 63 AMG 6×6 has been an unprecedented success. Although the sales figures pale into insignificance when compared to the rest of the Mercedes-Benz range, the six-wheeler has enjoyed a huge following. One shortcoming of the G 63 AMG 6×6 though is that most owners will need a truck license to be able to drive it on the public road!
This is where the Mercedes-Benz G 63 AMG "Green Monster" steps into the picture. G 63 AMG 6×6 size but without the rear pickup compartment, this example looks to be in the later stages of development. It was recently spotted testing in (what looks like) Sweden.
When it is officially unveiled, we expect it to come fitted with the same 5.5 litre V8 engine as the rest of the range. Twin-turbos assist to produce a total of 537 hp at 5500 rpm and 760 Nm at 2000–5000 rpm.
To match he outlandish figures and stance, this version of the G 63 AMG gets broader wheel arches and running boards. The lower facias have been redesigned in line with the 6×6 version. The G 63 AMG 4×4 is likely to be sold as a limited production model, although an official launch date is not yet known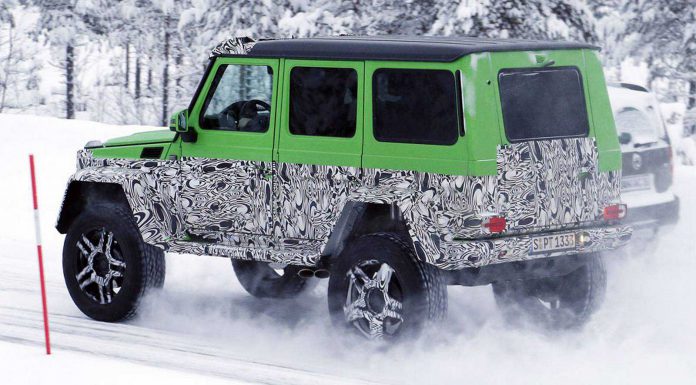 Quite frankly, it is a ridiculous prospect. For that reason, we absolutely love it – as will much of the Middle East!