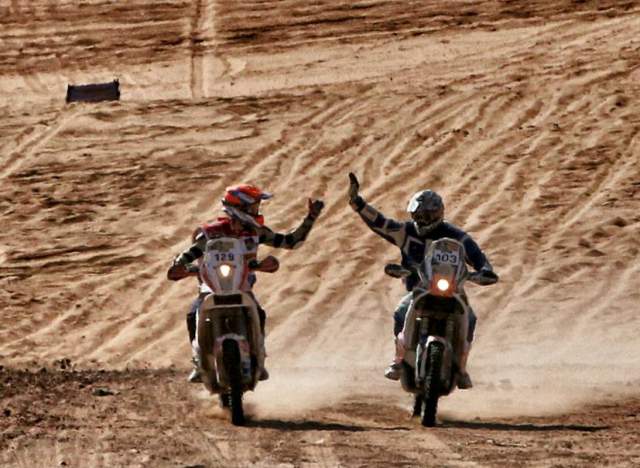 Dakar Rally 2015 action is at its peak right now with 4 stages already completed. These are the highlights from Stages 3 and 4. After an exciting first two stages, drivers left San Juan for stage 3 whose destination was Chilecito. They passed through the Province of San Juan Turismo and Secretaria de Turismo / La Rioja. Cars and Trucks covered a total distance of 284km while Bikes and Quads covered 220km.
Stage 3 kicked off with Orlando Terranova in the lead driving for MINI, Joan Barreda was leading in the Bikes category but it was Matthias Walkner who won eventually. Marc Coma finished 40 seconds behind Walkner while Barreda finished in third. Terranova won in the Cars category followed by Giniel de Villiers who crossed the line 2 minutes later.
Lucas Bonetto took the win in the Quads category, this was his first stage win. Meanwhile Ayrat Mardeev sealed the top win in the Trucks category after an exciting race, Andrey Karginov followed in second while Gerard De Rooy finished in third.
Stage 4 saw the drivers leave Argentina after crossing the Andes. They started in Chilecito and finished in Copiapo crossing the Province of Secretaria de Turismo Catamarca. The cars, bikes and quads covered a distance of 315km while the trucks covered 174km. The stage started with Nasser Al-Attiyah leading the cars while Joan Barreda lead the bikes. Barreda maintained a perfect ride to take the win in this stage.
Nasser Al-Attiyah stunned once again during the fourth stage, taking the win ahead of Nani Roma and Giniel de Villiers. The Quads category was won by the electrifying Rafal Sonik alias 'Supersonik'. For Stage 5, drivers will rally from Copiapo to Antofagasta covering a distance of 458km. Be sure to check back for highlights of the next two stages here!
Stage 4 – Car/Bike – Stage Summary – (Chilecito… by Dakar
Stage 3
Cars
1. Orlando Terranova
2. Giniel de Villiers +1m54s
3. Yazeed AlRajhi +2ms52
Trucks:
1. Ayrat Mardeev
2. Andrey Karginov +1m51s
3. Gerard De Rooy +4m30s
Bikes:
1. Matthias Walkner
2. Marc Coma +40s
3. Joan Barreda Bort +1m53s
Quads:
1. Lucas Bonetto
2. Sebastián Halpern +58s
3. Rafal Sonik +2m14s
Stage 4
Cars:
1. Al-Attiyah
2. Nani Roma +2m40s
3. Giniel De Villiers +2m57s
Bikes:
1. Joan Barreda
2. Marc Coma +1m59s
3. Pablo Quintanilla +2m49s
Quads:
1. Rafal Sonik
2. Ignacio Casale +3m26s
3. Mohammed Abu-Issa +13m14s