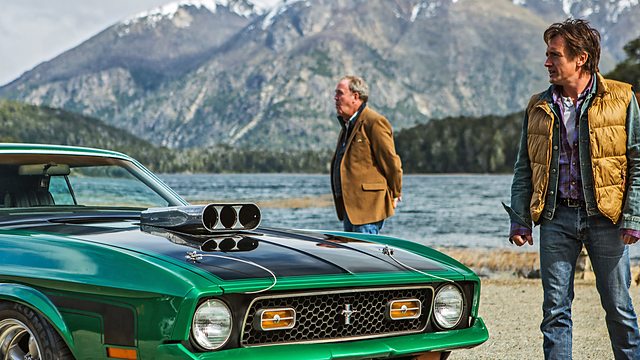 9 months after the last episode of Top Gear Season 21 aired, Jeremy, Richard and James return for their traditional Christmas special. Spread out over two parts, the new episodes air on 27th and 28th of December on 20:30 and 20:00 GMT.
Jeremy Clarkson, Richard Hammond and James May buy three V8-engined sports cars and ship them to Patagonia. In Patagonia a 1600 mile road trip through spectacular landscapes awaits them. Along the way they encounter rough roads, collapsed bridges, broken bones and a cow as they press onwards against the odds in a quest to reach the southernmost city in the world.
Top Gear Patagonia Special Video
[youtube]https://www.youtube.com/watch?v=0sAse6psM0o[/youtube]
The Top Gear Patagonia Special features three V8 sports cars; a black Porsche 928, a red Lotus Esprit and a classic Ford Mustang. When the trio reach the southernmost city in the world, they will play a game of car football against Argentina and throughout the journey, the cars will be tested by swamps, deserts, forests, ski slopes and beaches in what promises to be one of the most testing adventures Top Gear has embarked on.
The Top Gear Patagonia Special was not without controversies. The crew was attacked after one cars was said to have a license plate that mocked the Argentinians with the Falkland islands. We look forward to see the final take on it in the Top Gear specials.