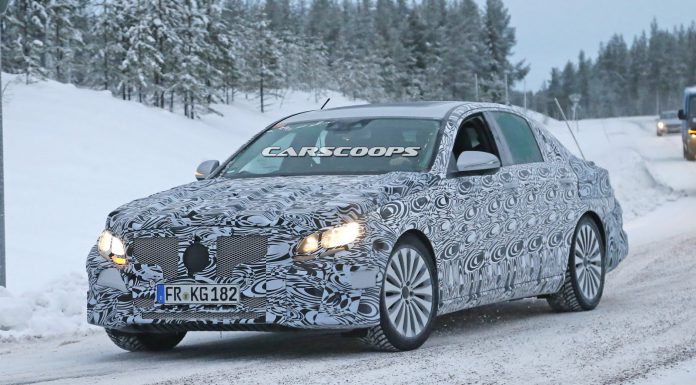 Another test mule of the next-generation Mercedes-Benz E-Class has been spied testing with this particular example testing in the wintery conditions of Europe.
As with previous prototypes, this car is heavily camouflaged. With that being said, a number of key design elements can be seen. For example, production ready headlights and taillights are featured. While the exact shape of the new headlights remains somewhat of a mystery considering the black and white camouflage, the new E-Class will likely make use of Mercedes-Benz's new Multibeam LED system. As for the taillights, they clearly feature a similar oval shape to those from the current Mercedes-Benz C-Class but should be slightly larger considering the new E-Class will be bigger overall.
Underpinning the new E-Class will be the same shared MRA platform as the new C-Class. This new platform is not only lighter than the one currently used by the E-Class, but it is also more rigid thanks to its utilisation of aluminium in its construction.
Under the hood, a few key changes are predicted. First and foremost, there is a suggestion that a host of new engines are being tested for the new C-Class including a few inline-six cylinder engines.
The new inline-six cylinder engine from Mercedes-Benz, no matter of its displacement, will then spawn brand new four-cylinder and three-cylinder engines for the brand and the new E-Class will likely be the first Mercedes-Benz model to debut this inline-six.
[Via Carscoops]